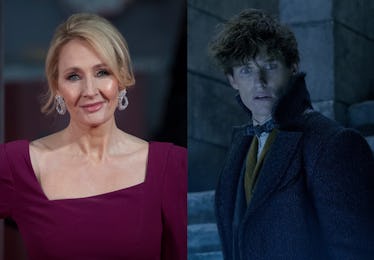 J.K. Rowling's Tweets About 'Fantastic Beasts: The Crimes Of Grindelwald' Explain SO Much
John Phillips/Getty Images Entertainment/Getty Images & Warner Bros. Pictures
The final Fantastic Beasts: The Crimes of Grindelwald trailer is blowing the minds of Potterheads with its surprising origin stories and subtle connections to the main Harry Potter series. Although she's known for dropping revelations about the Wizarding world that aren't always welcomed, author J.K. Rowling has now posted some tweets about the movie that are definitely appreciated. J.K. Rowling's tweets about Fantastic Beasts: The Crimes of Grindelwald explain so much about this sequel that we want to cast a time-traveling spell to see it ASAP.
When the last Crimes of Grindelwald trailer launched on Sept. 25, fans immediately delved into deciphering its greatest mystery, aka the reveal of Voldemort's snake Nagini as a shapeshifting human working with Credence Barebone (Ezra Miller) at a traveling circus. The trailer also alluded to the truth of what Dumbledore (Jude Law in the Fantastic Beasts world) sees in the Mirror of Erised (spoiler alert: definitely not socks), fueling fans' speculation about when viewers will learn more about Dumbledore's relationship with dark wizard Gellert Grindelwald. Obviously, Rowling can't reveal much about her plans for the future of the Fantastic Beasts franchise, but since the release of the trailer, she's generously spilled what she can on Twitter. Bless the internet, right?
First addressing the major plot twist of Nagini's role in the movie, Rowling then set forth in nipping some new fan theories in the bud. She corrected a fan who called Nagini an Animagus, who learns how to transform into an animal whenever he or she wants, and said that the character is actually a Maledictus. Don't bother analyzing your old copies of the Harry Potter books for a definition of that, because Rowling broke it down for us. As also explained on Pottermore, a Maledictus carries a blood curse that destines them to permanently "become a beast" one day.
Although a pre-Hogwarts Harry unknowingly let a snake loose at the London Zoo after communicating with it, Rowling has continuously informed fans that the escaped boa constrictor wasn't Nagini. The day of the trailer debut was no exception, and she reminded fans that Nagini was never that particular snake, leaving the details of how Nagini met Voldemort unclear for now.
Moving on from the Nagini plotline, Rowling tackled fans' queries about how The Crimes of Grindelwald will address Dumbledore's connection to Grindelwald. Potterheads know that a young Dumbledore grew to love Grindelwald after they became friends, but the trailer dances around why Newt Scamander has to capture Grindelwald rather than the more experienced Dumbledore and Aurors. We already knew that the Fantastic Beasts sequel wasn't going to feature Dumbledore as an "explicitly" gay character, but it sounds like the professor's reasoning for not tracking down Grindelwald himself is far more complicated than just having feelings for the evil wizard.
Rowling's insights about her characters and their universe are sometimes hit-or-miss, but the tidbits she shared about The Crimes of Grindelwald are better than nothing. Will she keep posting more if we just bombard her Twitter with questions?
Fantastic Beasts: The Crimes of Grindelwald is in theaters on Friday, Nov. 16, 2018.