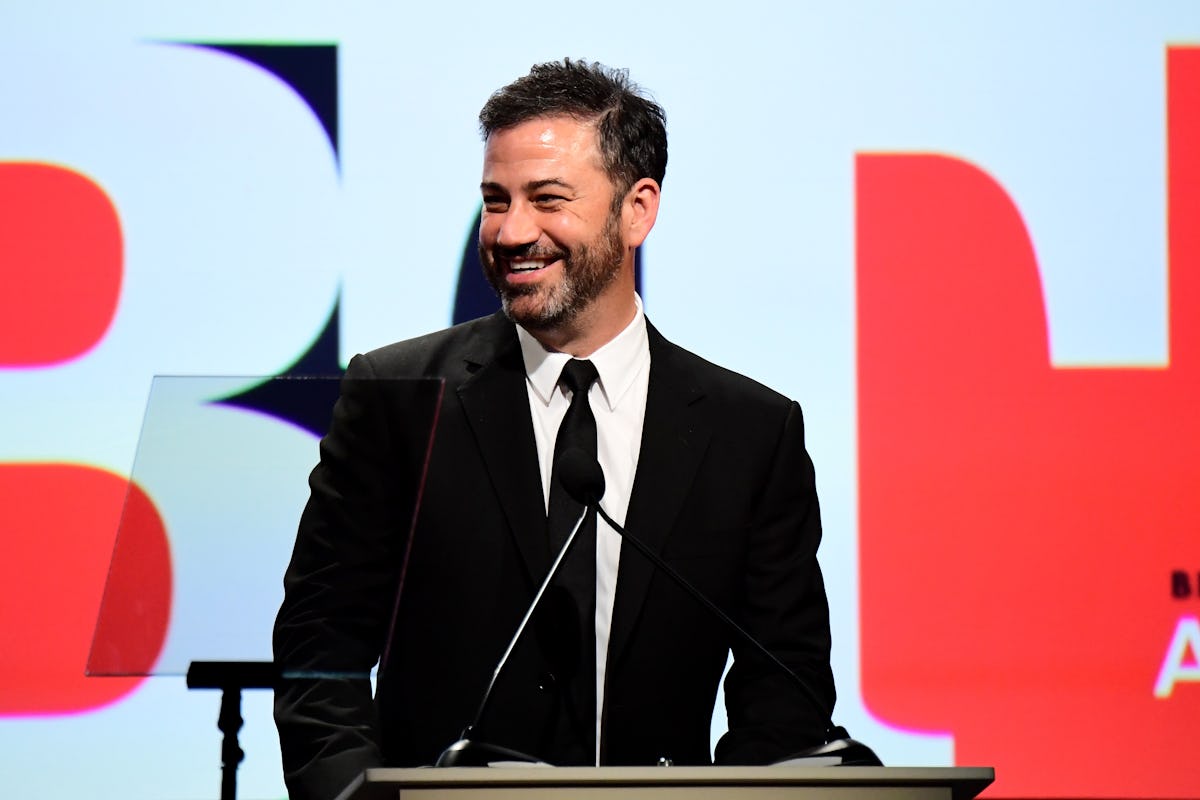 Jimmy Kimmel Accepts Roy Moore's Invitation To "Fight," So 2017 Is Getting Way Weirder
Emma McIntyre/Getty Images Entertainment/Getty Images
Jimmy Kimmel says he would love to fight Roy Moore, the Republican U.S. Senate candidate who has been accused of sexually harassing women when they were teenagers. We know this because Kimmel said it very plainly and clearly, while explaining to his audience a back-and-forth exchange he had with Moore on Twitter. That explanation took place on Thursday, Nov. 30, when Jimmy Kimmel responded to Roy Moore's tweets by repeatedly mocking the congressional candidate on television.
What Kimmel Said On His Show
During his Thursday night monologue, Kimmel walked his audience through the "Twitter war" he'd had with Moore earlier in the day. During the social media exchanged, Moore invited Kimmel to see him "man to man" in Alabama.
"And I responded, and he responded back, and I responded again. It's all on Twitter, but the bottom line is this: I accept the invitation. I will come down there," Kimmel explained on his nightly show.
The host then went on to mock Moore, who had reportedly been banned from a mall in Gadsden, Alabama. "What I'm gonna do is, and I think you're actually going to like this, Roy, I'm going to come down to Gadsden, Alabama, with a team of high school cheerleaders. We'll meet you at the mall. Don't worry, I can get you in," Kimmel said.
The 50-year-old comedian then went even further, and pointed out that Moore's responses on Twitter sounded like a challenge to a fight.
"If you are, I accept by the way. I accept that invitation. There is no one I would love to fight more than you," Kimmel said. "I will put my Christian values aside just for you and for that fight. There is no one I would love to fight more than you. I will put my Christian values aside just for you, and for that fight."
How It All Started
On Wednesday night, while Moore was speaking at a church in Alabama, Kimmel's show sent a fictional character, Jake Byrd, to mockingly defend the Senate candidate.
The next day, Moore responded to the prank by directing a message to Kimmel on Twitter. "If you want to mock our Christian values, come down here to Alabama and do it man to man," Moore wrote.
"Sounds great Roy - let me know when you get some Christian values and I'll be there!" Kimmel responded. The exchanged continued thereafter.
Kimmel then went on to extend the conversation during his show on Thursday night.
"So, if you are challenging me to a fight, here's what we'll do: Let's find a place to do it, I'll wear a Girl Scout uniform so you can have something to get excited about, and the winner — whoever wins the fight — will give all the money we charge for the tickets to charity," Kimmel told his studio audience. "My charity will be the women who came forward to say you molested them. All right, tough guy with your little pistol?"
What Moore Is Accused Of
In the last month, multiple women have come forward to accuse Moore, the former chief justice of Alabama's Supreme court, of preying on them when they were teenagers. Moore denies all allegations against him. News of the accusations inspired fellow Republicans to call for Moore to step out of the race for the Alabama Senate seat. Others have speculated about expelling Moore from the Senate, even if he gets elected.
The allegations have nonetheless made Moore a target for criticism, from politicians to late night hosts like Kimmel.
"We love Alabama. We love Alabama so much we sent Reese Witherspoon to make a movie about you," Kimmel during Thursday night's show. "We just don't like alleged child molesters, and we hope you can see your way clear to not electing one to the Senate of the United States of America."
The special election for Alabama's Senate seat will be held on Dec. 12.