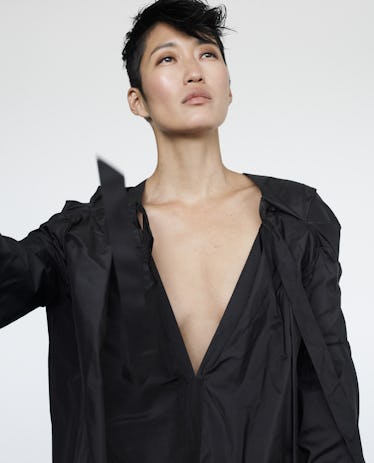 Jihae's "Life On Mars" Music Video Is So Stunning, It'll Stick With You After You Watch
Paola Kudacki
For all you David Bowie fans out there, I've got some really great news for you, and it comes in the form of a gorgeous cover to one of Bowie's most iconic songs. Jihae, the South Korea-born actress and singer-songwriter, just released a new music video, and it honors the legendary singer in a beautiful way. And believe me when I say Jihae's "Life on Mars" music video is all kinds of wonderful and certainly would have made the late David Bowie proud.
Jihae is not only a phenomenal singer but also a stellar actress. Her recent work includes her role in MARS (the second season just premiered on Nov. 12 on National Geographic), where she plays a set of twin sisters — one who's the commander of the first human colony on Mars, and the other, the Secretary General of Space Agency on earth. So cool, right?
Jihae will also be starring in Peter Jackson's Mortal Engines as the character Anna Fang, set to be released on Dec. 14. So basically, to say she's talented is an understatement.
I could probably write about Jihae's accolades for the rest of the day, so let's talk about what I really wanted to show you guys, and that's Jihae's "Life on Mars" music video. For those of you who idolize David Bowie, then you know his video for his song is four glorious minutes of Bowie himself, rocking his iconic look, and singing into the camera:
And Jihae's video certainly pays homage to the original video, but with a unique spin. We get to see Jihae singing directly into the camera as well, just like Bowie, but her video weaves older, classic video clips into the narration, and it's pretty powerful.
Take a look at Jihae's "Life on Mars" video below:
While nobody can do David Bowie quite like, well, David Bowie, Jihae's creative spin on his song comes pretty damn close.
If you've never heard of Jihae, a bit of background: Back in 2007, she launched her record label and released her first album. Fast forward to present day, and her fourth and latest LP, Illusion of You, features some incredible singers, including Leonard Cohen and Dave Stewart.
According to the press release, Jihae has also "written and produced a multimedia rock opera with Academy Award-winning playwright John Patrick Shanley," and has performed at the London Olympics, Cannes Film Festival, as well as the United Nations — you know, just a total underachiever. Not.
And if all of those accomplishments aren't enough, Jihae told Variety that she'd like to add on another thing to her already overflowing resume: directing.
"Eventually, I would love to direct, but not anytime soon," she told the publication. "I just love the storytelling aspect. When you make an album, you have a team of musicians you work with; when you're a director and you're creating a motion picture, it's a much bigger animal. But there's a lot of freedom and a lot of different ways you can storytell."
I have a feeling that, no matter what she does, Jihae is going to absolutely crush it. Just a hunch!