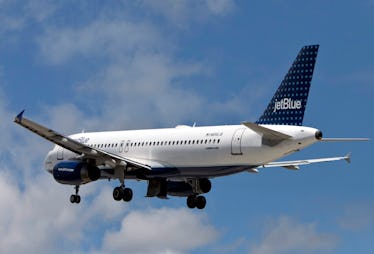 JetBlue's SPF Sale Can Get You 30 Percent Off Flights To Bermuda, So Get Packing
Allison Joyce/Getty Images News/Getty Images
Summer, Por Favor! That's what you'll be saying when you see these new "SPF" deals from JetBlue — because it's time to head to these hot spots on the equator where the water is blue and the vibes are chill. JetBlue's SPF sale can get you 30 percent off flights to Bermuda, so get packing.
You've got until Friday, May 25, to get ahold of this incredible deal. Here's how it works: Book any flight and hotel combo to Turks & Caicos (PLS), Bermuda (BDA), Cancun (CUN), and Puerto Rico (SJU, PSE, and BQN) before May 25, and you'll receive 30 percent off the base airfare listed price. You need to be flying out of the U.S. any day through Wednesday to Friday, and returning between Sunday and Tuesday. You can travel any dates between May 26 and August 3 to be eligible for the deal.
Instead of being jealous of everyone else's sweet Instagram pics of their vacations this summer, take advantage of this deal so you don't have any FOMO. Need new pics for your Pinterest page? This is the perfect opportunity to boost your online blog or travel writing venture. A traveling millennial is a happy millennial.
JetBlue is actually calling it the "Summer, Por Favor" sale, so it makes sense that these destinations include Spanish-speaking countries like Mexico. For the discount to apply, though, both flights and your hotel stay must be within the eligible travel period, so make sure to triple-check those dates. Looking at the fine print, you should also be aware that the deal can't be combined with other deals or be applied to previous purchases within the same period.
Luckily, the hotels that are eligible for this deal look amazing. There are several hotels listed in San Juan, Puerto Rico, and they all have a four-star rating or higher. San Juan is the capital and most populous city in Puerto Rico, and it has beautiful historic sites if you like a little wisdom on your adventures.
If you're more of a resort traveler, JetBlue's got you covered. There's literally dozens of choices for you in Cancún, Mexico, as well as on Turks & Caicos, a beautiful archipelago in the Caribbean — which, if you haven't Googled, you need to stop what you're doing and Google it. That should help make your decision. The islands are home to more than 31,000 full time residents, and attract more than 1 million tourists annually, according to its tourism website.
The average temperature ranges between 85 and 90 degrees from June to October, sometimes reaching the mid 90s in the late summer months, so you really can't go wrong with this JetBlue deal. The water temperature is just as warm — hovering about 80 degrees in the summer — and the climate is relatively unchanging. So yeah, if not this time, definitely get there at some point.
Additional fine print stuff to be aware of is that you'll really want to make your decision before May 25. You won't be able to make any changes in reference to this promotion after midnight on the 25th. Also, make sure you're set, because JetBlue Vacations change and cancel fees apply to all changes and cancellations — it doesn't matter if it's a promotional deal like this one.
Since the deal is part of a JetBlue Vacations Package, your first checked bag costs $25, and the second checked bag is $35. Any more than that, and you're going to get a $100 fee.
Whether you opt for Bermuda or Cancún, San Juan or other areas of Puerto Rico, this is a perfect time for booking. Summer is fast-approaching, y'all! The deals are gonna be gone soon. Be sure to check out the details on each hotel/flight package, because there are some restrictions that might be specific to where you end up staying. Happy trails!