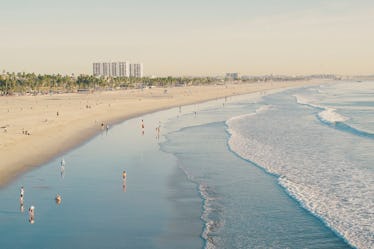 You Can Fly To California For $49 With JetBlue's Summer Sale & Hello, Vacation
If you are still mulling over your summer travel plans, now just might be the time to bite the bullet and pack your bags. JetBlue's "Sale Into Summer" has cheap flights that you seriously don't want to miss out on. I'm talking fares under $50 for a one-way flight to from Nevada to California, and possibly even a roundtrip ticket for under $100, depending on where you're coming from and going to. But like all good things, this sale must come to an end soon, which means you'll want to book your next getaway ASAP. Here are the best deals you can get with JetBlue's "Sale Into Summer" promotion.
To score one of JetBlue's summer flight deals, you must book by 11:59 p.m. ET or local time on Thursday, May 31. Before you book one of these flights, you should know that travel is only valid between Wednesday, June 6 and Wednesday, June 20.
Some of theses fares almost seem too good to be true. If you live in Las Vegas and are dreaming of a beach vacation, you need to take advantage of JetBlue's super cheap flights. Let's be honest, that desert heat can be pretty brutal, so why not cool off with a one-way ticket to Long Beach, California? For less than a trip to the grocery store (or perhaps your Sunday brunch bill), you can dip your toes in the blue Pacific waters, bask in the California sun, and have some much needed R & R time for a mere $49 (taxes and fees are included). So long Sin City, you can find me hanging out on the shores of the Golden State. Oh, and don't forget to book your return flight. You can travel from Long Beach back to Las Vegas for $49. That's a roundtrip flight for under $100. What are you waiting for?
That's not the only low-cost flight option the New York-based airline is offering customers. No matter what part of the country you live in, there's a deal for you. Need a quick getaway from New York City? You can fly to Savannah, Georgia for $74 one way. Soak up all of the southern charm that Savannah has to offer and take a short drive (about 45 minutes) to Hilton Head Island, South Carolina where you can lounge on the beach to your heart's content. Also from New York City, you can jet on down to West Palm Beach, Florida for just $79 one-way. Your next beach vacation is totally within reach, thanks to these economical deals.
If you're more of the type who likes to vacation to a big city and you happen to reside in Atlanta, you can score big savings on a one-way flight to Boston for $54. If you're flying from Boston, head on down to the white sandy beaches of Florida. A one-way ticket from Boston to West Palm Beach, Fort Myers, or Jacksonville will cost you $84.
JetBlue is currently offering over 200 flight deals for you to choose from. No matter where you live, there is probably a departure ready and waiting for you to hit book. These flights may not be available on the exact day you want to travel, so prepare to be flexible. Some restrictions may apply, so make sure you click on a fare to scope out the details before you buy.
If you want to take advantage of JetBlue's flash sale, you've really only got the afternoon to firm up your travel plans, as the promotion ends on Thursday, May 31. Round up your crew or plan a solo vacation, because flight deals as affordable as these don't come around often. Now go pack your suitcase.