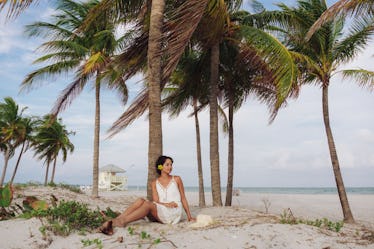 You Can Fly To Florida For $79 This Winter With JetBlue's Latest Flash Sale
The coldest months of the year are ahead of us, my friends — and that means you might want to think about booking a mid-winter getaway. I mean, let's face it: What's better than ditching your heavy jacket for a warm weekend at the beach? The answer is nothing. Thankfully, JetBlue's Florida flight sale for winter 2019 is making is super easy for travelers to escape the cold weather on a budget. In fact, the company is offering one-way tickets to the Sunshine State for as cheap as $79. However, you'll have to act fast if you want to take advantage of the deal.
Why? Because JetBlue's latest flash sale will only last one day, which means you have to book your trip on Friday, Dec. 7. Yes, that means you'll have to plan your Florida escape immediately — but you can always buy the tickets today and organize the trip later. Don't worry, though, because travel dates for the sale range from Jan. 7, 2019 to Feb. 12, 2019. That means you'll have plenty of time before your vacation to get all of the details in order, whether you're planning on traveling with a friend or taking a solo trip.
Before you start the booking process, you should probably know which cities in Florida JetBlue is featuring in the deal. According to the company's sale page, seven cities in the Sunshine State are included, which means you can pick and choose which area you want to visit. The Florida cities included in JetBlue's sale are as followed:
Jacksonville, Florida
Orlando, Florida
Palm Beach, Florida
Fort Meyers, Florida
Sarasota, Florida
Tampa, Florida
Fort Lauderdale, Florida
Whether you're hoping to visit the beach or romp around a city, you have plenty of options. However, not all of the one-way flights are $79. Some of them cost $99, which is still under $100 and pretty dang affordable. To check out the list of featured prices, check out JetBlue's sale page and start scrolling. Once you see an affordable flight that's departing from a city near you, hit the blue arrow to the right of the screen and start the booking process.
While you're booking, you'll need to know one *very* important detail. The Florida flights that are on sale are only valid for trips departing from Sunday to Tuesday. That means you might have to request a few days off of work if you're hoping to take advantage of the deal — but with tickets this cheap, it'd probably be worth it.
One more thing you should consider is the sale's blackout date. According to JetBlue, the sale is not valid for travel on Monday, Jan. 21, so keep that in mind if you're planning on booking a late-January getaway. Like I said, though, you can choose any time frame between Jan. 7, 2019 and Feb. 12, 2019 if you book your flight on Dec. 7. So if you're hoping to take advantage of the deal, check your calendar and grab your wallet. You'll be glad you acted fast when you're relaxing on a Florida beach this winter.