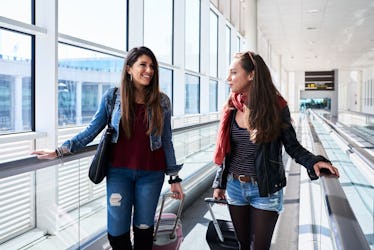 You Can Fly To New York City For $49 During JetBlue's 2-Day Fall Flight Sale
If you're in search of a cheap fall getaway, JetBlue's two-day flight sale may be just the vacation you're looking for. The airlines' discounted flights include $49 one-way fares, so you won't break the bank when booking your fall travel. Like most good things, these sale prices won't be around for long. Before you book your airfare, here's what you need to know about JetBlue's fall flight sale.
Before we dive into the actual flights, there are some details that you should know about before you peruse the discounted fares. First, and most importantly, is that this flight sale ends at 11:59 p.m. on Wednesday, Oct. 17. That means you've got less than 24 hours to score a cheap deal from JetBlue. There will always be other flight sales, but this two-day deal is one you don't want to miss out on. These fares don't include the entire holiday season, only a portion of it. Travel is only valid from Wednesday, Oct. 24 to Saturday, Dec. 15, according to JetBlue. Most of these flights included in the two-day fare sale include blackout dates including from Wednesday, Nov. 7 to Saturday, Nov. 10, as well as Friday, Nov. 16 to Monday, Nov. 26.
Now to the fun part. There's nothing quite like the feeling of scoring a super great price on a flight. Like a lot of people, traveling is one of my favorite things to do. That's why JetBlue's two-day flight sale is an opportune time to take advantage of the airlines' $49 fares. One of my favorite fares from JetBlue's two-day sale is this $49 flight from Worcester, Mass. to New York City. NYC is always a magical place, but even more so when the temperatures start to drop and there's a slight chill in the air.
If you live on the west coast, check out this deal from Long Beach to San Francisco that is just $49 for a one-way ticket. San Francisco's weather is absolutely beautiful this time of year. In fact, U.S. News & World Report says that September to November is one of the best times to visit the City by the Bay. Return flights from San Francisco to Long Beach also start at $49. If you can play your cards right, you could get a roundtrip ticket between the two cities for under $100. That's a steal for any flight, especially on a non-budget airline carrier like JetBlue.
Of course, there's more where this comes from. If you live in Washington D.C. and have been eyeing a trip to Charleston, now is your time to go. During JetBlue's two-day flight sale, flights between D.C. and Charleston start at just $49 for a one-way ticket, according to JetBlue. Other $49 one-way fares include travel between Boston and Buffalo, New York, as well as Jacksonville, Florida to Fort Lauderdale, Florida.
As mentioned above, you only have hours left to take advantage of this fall flight sale from JetBlue. Make sure to book your travel by 11:59 p.m. on Wednesday, Oct. 17 to score a super affordable fall getaway.