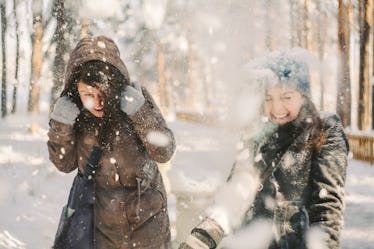 You Can Fly To San Francisco With $44 This Winter During JetBlue's 2-Day Flight Sale
If you're yearning for a cheap fall getaway but aren't sure where to find one, look no further than JetBlue's two-day flight sale. The New York-based airline company is currently offering $44 flights that won't break the bank when it comes to planning your next trip. These super affordable fares include destinations to major U.S. cities such as San Francisco and New York City. JetBlue's flight sale is only valid for a limited time, so make sure you book your tickets before this deal expires. Here is what you need to know.
If you've been mulling over a quick weekend trip with your girlfriends, now might be the time to finally make it happen. JetBlue's flight two-day flight sale started on Tuesday, Oct. 30 and ends at 11:59 p.m. local time on Wednesday, Oct. 31. Unfortunately, like most good flight deals around this time of year, these JetBlue fares aren't eligible for Thanksgiving travel. Here are the blackout dates to keep in mind as you search for qualified flights.
Friday, Nov. 16 to Monday, Nov 26
Sunday, Dec. 16 to Wednesday, Jan. 9
While holiday travel isn't eligible for this particular promotion, there is still a pretty large travel window to choose from. Your travel needs to fall between Sunday, Nov. 11 and Thursday, Feb. 14 in order to snag a discounted fare that's a part of JetBlue's two-day flight sale. I did a quick search around and found a few very affordable options.
One of the most notable fares included in this deal is a one-way ticket to San Francisco for $44. The flight departs from Long Beach, California. Just remember you'll still need to book a return flight. Luckily, that flight also happens to be just $44. Basically, you can fly roundtrip from Long Beach to San Francisco for $88. A roundtrip flight for under $100 is almost unheard of, especially on an airline like JetBlue which is not a budget carrier. (JetBlue was ranked the best airline by JD Power and Associates in 2016, according to Business Insider.)
The limited-time travel sale from JetBlue also features other $44 fares to places like San Jose, California, Worcester, Massachusetts, and New York City. I'm partial to NYC just because it's so magical during the holiday season. Although, California always sounds like a good idea. In addition to these deals, there are other flights to cities all over the country. Just keep in mind that other fares may cost you more than $44 each way. The availability of these flights n depends on which airport you are flying out of and each flight is subject to availability, according to JetBlue. Make sure to click on each flight and review the fine print before you book.
I know, it's Halloween and all you wanna do is get dressed up in your costume (me too). BUT, before you get wrapped up in your Halloween festivities later today, make sure to secure your travel plans before midnight. Or else these ridiculously cheap flights are going to disappear right before your very eyes.