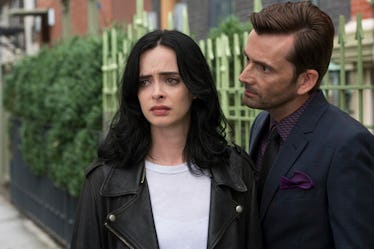 Here's What It's Like To Work For The Most Badass Marvel Hero, Jessica Jones
Marvel
Do your friends tell you you're "celeb obsessed"? Do you follow your favorite celebs' every move? Know their Instagram histories so well that you can rattle off their inner circle by name and IG handle? If yes, Elite Daily's new series, SideClique, is just for you. We're bringing you everything you've ever wanted to know about the people living their lives right alongside our favorite celebs.
Jessica Jones would scoff if you told her she was not only a superhero to millions but a fashion icon as well. Though she may not wear a costume, her look is as much a statement about what kind of superhero she is as Tony Stark's red armor. That low-key realism of the series is one of the hallmarks that makes it so good, and Jessica's low-key outfit has tons of hands that go into to making it look as good as it does on the show. According to Jessica Jones' costume designer Elisabeth Vastola, there's way more teamwork that goes into turning Krysten Ritter into Jessica Jones than The Defenders would ever be able to handle.
As the world of Netflix's Marvel-verse expands to three shows a year, so too does the creative world that brings the shows to life. Vastola took over the position of designing costumes for Jessica Jones at the beginning of Season 2, when Stephanie Maslansky (who designed Season 1 of all four standalone shows and The Defenders) chose to work on Luke Cage Season 2 instead. As Vastola tells Elite Daily: "Jessica Jones is my first foray into the world of Marvel. It's a very grounded, very fashiony, but real people kind of aesthetic."
Jessica Jones may be a down-to-earth girl who doesn't consider herself a fashionista, but that doesn't mean dressing her is easy. One major change this year is that her iconic scarf, which Matt Murdock stole in The Defenders and wound up riddled with bullet holes, hasn't been replaced. Vastola says:
We purposely didn't replace it. One, because of the season (it's summer), and two, I think it's a nice way to peel a layer off of Jessica — get her in a little bit more of a vulnerable look. Not having that extra layer around her neck makes her a little bit more accessible to the viewers. We didn't lose the jacket, though.
Speaking of the jacket, fans who have been itching to know who makes it and where they can get one, are out of luck.
The funny thing about that jacket is it's Acne, but it's gone now. It doesn't exist anymore. One of our biggest challenges this season is that we have quite a few in the office, but she goes through so [many] of these stunts ... We had to figure out if there was a way to actually make it ourselves. We have such a fabulous tailor and we found the right leather and hardware, so we're able to make it at this point, which is so much better.
Speaking of stunts, Vastola admits that Jessica's lack of superhero costumes actually makes it more difficult to dress her:
Instead of having a tough and well-built stretch suit, with lots of thought going into the design, we're asking the same amount of rigor to be withstood by denim and a tiny little tee shirt. So, we have this triage center for these tiny little tanks. Sew it, reinforce it, sing to it at night... whatever it takes to get through the scene.
Working behind the scenes for the show is not always a glamorous job, either. In addition to singing lullabies to tank tops, there's lots of what Vastola calls "physical grunt work" that goes into this job, including "carrying clothing... trudging out and shopping in all kinds of elements... lots of late nights and early morning." She admits, "It really tests you."
However, Vastola explains:
Once you finally get through the muck and get to the day to day of actual costume designing, it's incredible. I mean, at some point when you're just waltzing into these stores and are able to pick what you love for this character and you get to put it on the body and they just come alive ... there's something magical about that, and seeing it up on the screen, it's amazing.
Jessica Jones Season 2 arrives on Netflix on Thursday, March 8, 2018. Elisabeth Vastola's next Marvel show will be Daredevil Season 3, which arrive in late 2018.