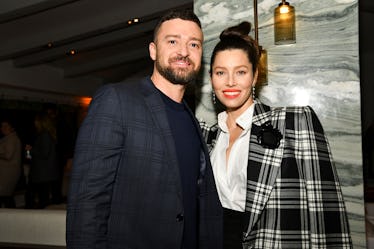 It Looks Like Jessica Biel Might Not Be Wearing Her Wedding Ring Anymore
Rodin Eckenroth/Getty Images Entertainment/Getty Images
Three months after Justin Timberlake called his behavior with his Palmer co-star Alisha Wainwright "a strong lapse in judgment," Jessica Biel was reportedly seen without her wedding ring. In photos obtained by The Daily Mail on Feb. 29, the actor was apparently spotted running errands in Beverly Hills; her ring finger appears bare. (Elite Daily reached out to reps for Biel and Timberlake for comment on the photos and did not hear back in time for publication.)
After Timberlake and Wainwright were photographed looking cozy on Nov. 23, 2019, a source reportedly claimed to E! on Nov. 25, "They are downplaying everything and trying to laugh it off as nothing. But it was definitely inappropriate and something that would make any wife uncomfortable. ... He had too much to drink and got carried away." Meanwhile, a second source reportedly claimed, "Their marriage will survive. He feels guilty and will make it up to her."
In an emotional Instagram post on Dec. 4, Timberlake wrote, "A few weeks ago I displayed a strong lapse in judgment — but let me be clear — nothing happened between me and my costar. I drank way too much that night and I regret my behavior. I should have known better."
Since then, Timberlake and Biel have appeared quietly supportive of each other on social media. On Jan. 31, she gave him a birthday shout-out, writing, "Happy birthday to the most timeless man I know. You somehow grow up without growing old. We love you so much ❤️🎂" alongside a photo of them kissing. On Feb. 14, he posted a throwback photo to the year they met, writing, "I love you, my funny Valentine."
There are plenty of reasons Biel might have taken off her ring that have nothing to do with the state of her marriage. She might have forgotten it at home or chosen not to wear it, or it might be with a jeweler for cleaning or repairs. Here's to hoping her finger just needed a breather.