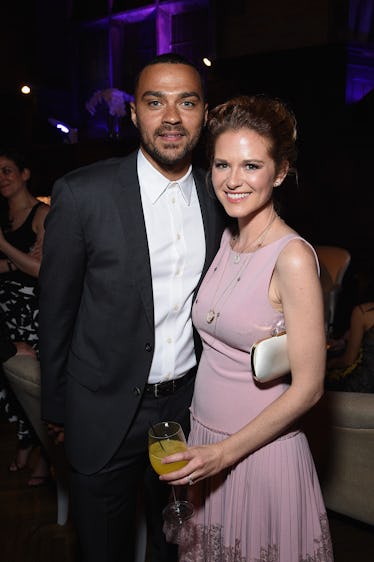 Jesse Williams Opens Up About Sarah Drew Leaving 'Grey's Anatomy' & It Will Destroy You
Dimitrios Kambouris/Getty Images Entertainment/Getty Images
Jesse Williams is just as bummed as you are about April Kepner no longer being on TV each week. The actor and on-screen ex to the longtime character opened up about what it feels like stop working with a co-star after teaming up together for nearly 10 years. Yup — Jesse Williams' quotes about Sarah Drew leaving Grey's Anatomy will leave you heartbroken all over again. It's so hard to say goodbye.
"I mean, the whole thing is sad. It's unfortunate," Jesse (aka Grey's Jackson Avery) told Entertainment Tonight. "That's my partner, my road dog, so it was unpleasant, but she's such a professional and did such incredible work down to the last frame and I'm really proud to have had our time together."
Drew and Williams both entered the Grey's Anatomy group back in 2009 as the show entered its sixth season, so they've been through a lot together. It's still hard to imagine a television world that has Jackson without April... Drew and fellow castmate Jessica Capshaw (Dr. Arizona Robbins) announced their departure from the medical drama last March.
Creator Shonda Rhimes weighed in on their exits following the news, highlighting their impact on the television landscape throughout their time on Grey's:
It's always hard for me to say goodbye to any of my characters. Both Arizona Robbins and April Kepner are not only beloved but iconic — both the LBGTQ and devout Christian communities are underrepresented on TV. I will be forever grateful to both Jessica and Sarah for bringing these characters to life with such vibrant performance and for inspiring women around the globe. They will always be a part of our Shondaland family.
Williams wasn't shy when it came to expressing his feelings about Capshaw and Drew's Grey's fate.
"Sarah and Jessica are easily among my very favorite people and co-workers, so this news f**kin' sucks. Their immense talent speaks for itself, but it's them as people that I'm so grateful to know, privileged to have worked with and learned from," he tweeted on March 8 after word broke they wouldn't be returning for Season 15.
The comforting news is that the family is still keeping in touch. Williams additionally told ET he spoke with Sarah Drew last Sunday. Phew.
Drew didn't hold back on her emotions throughout her final days on Grey's Anatomy, showcasing somewhat of a photo series farewell tour on her Instagram last month leading up to the Season 14 finale.
"What I keep experiencing since the moment I was let go, is the tremendous joy that is present in the midst of my sorrow. It felt horrible to be asked to leave my family of 9 years, and I have experienced real, deep grief over it, BUT I have ALSO been so buoyed up by my cast, my crew, the fans, and my family in such extraordinary ways, that I wouldn't trade any moment of it for the world," a portion of a caption from one of Drew's May 10 snaps read.
Drew's post-Grey's career moves included a pilot for CBS' Cagney & Lacey reboot — the actress would be playing Chris Cagney, the iconic cop role originated by Sharon Gless in 1982. Unfortunately the series didn't get picked up, but Drew has other projects on the horizon. She's starring in the upcoming army drama, Indivisible, which hits theaters October 26.
Grey's Anatomy will resume in the fall with many of its original and veteran cast members — Ellen Pompeo, Chandra Wilson, and Justin Chambers will indeed continue their Grey Sloan Memorial tenures.
Sarah Drew will certainly be missed, but she's definitely not forgotten.
Grey's Anatomy returns Thursday, September 27 on ABC.