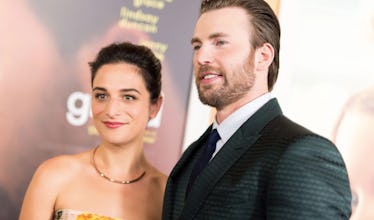 Jenny Slate & Chris Evans Are Reportedly Back Together, So Love Isn't Dead Yet
Getty Images/Emma McIntyre
This year has been objectively garbage, we can all agree on that. So it wasn't too surprising when Jenny Slate and Chris Evans — one of Hollywood's purest couples — split back in February after dating for one year, leaving us all devastated. It appears as if all hope for this dumpster fire of a year isn't lost, though. Indeed, it looks like Jenny Slate and Chris Evans might be dating again after they were recently seen getting dinner together in Atlanta, where Evans is busy filming the latest Avengers movie.
Now, given the ups and downs of Hollywood relationships, I know what you might be thinking: "Getting dinner does not automatically mean these two are back together," and you're right, it doesn't; dinner isn't the only thing sparking dating rumors, though. According to a PEOPLE magazine witness, Jenny and Chris looked "very much back together" earlier this week when they were spotted apartment hunting for Evans — who will be starring in a new play, Lobby Hero, on Broadway next year — in New York's Tribeca neighborhood.
If that's not enough for you, these two have been pretty flirty with each other on Twitter in the past few weeks, as well, and, as we all know, social media flirtation is basically engagement in celebrity world.
The tweets started when Chris Evans wrote "The theme song to Mash stresses me out. The Pavlovian response is that it's time to go to bed and I probably haven't done my homework," to which Slate responded, "Probably haven't'???? Cmon, Christopher. Have you done your homework or haven't you? It's 7pm and you've had the whoooole weekend. Cmon."
Of course, these two being the adorable goofballs they are kept the joke running a bit longer. Evans responded to Slate, asking her to cut class with him; he wrote, "How's your handwriting? Can you write me a note? Let's cut class!" and Slate responded with, "This is terrifying and exhilarating. Meet me behind the gym after science. I have shark bites."
Slate also tweeted about her "boyfriend" recently, saying, "My boyfriend does many dreamy & generous things but number 1 in my mind right now is how he celebrates my new turtlenecks/let's me show him my online shopping spoils & cheers me on," and causing tons of fans to assume she and Evans are definitely back on.
Following their split in February, Evans and Slate remained friendly towards one another in the press. Jenny gave a loving and supportive interview to Vulture in March about her relationship with Chris, saying
I first really liked Chris as a person because he is so unpretentious. He is a straight-up 35-year-old man who wants to play games. That's it. I was like, 'I'd better not discount this, because this is purity.'
"He's really vulnerable, and he's really straightforward," she went on. "He's like primary colors. He has beautiful, big, strong emotions, and he's really sure of them. It's just wonderful to be around. His heart is probably golden-colored, if you could paint it."
OK, talk about heart melting, am I right?
Evans returned the sentiment in a March interview with PEOPLE, where he called Jenny his "favorite human."
"It's like an art form talking with her," the Avengers actor said, "Because the visuals associated with her expression are just so colorful. She's so vulnerable, so honest, so interested in other people more than herself. She's incredibly compassionate, there's just nothing to not love about her."
Clearly these two have plenty of love for one another, so if they are, in fact, back together, it's no mystery as to why. Now let's see some couple's shots on Instagram, you two.
Check out the entire Gen Why series and other videos on Facebook and the Bustle app across Apple TV, Roku, and Amazon Fire TV.