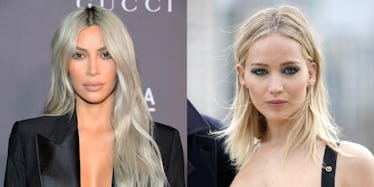 Jennifer Lawrence Revealed The Truth About Her Bond With Kim Kardashian & Yikes
John Phillips/Charley Gallay/Getty Images Entertainment/Getty Images
At one point or another, all of us have had some level of a one-sided friendship. I've put in way too much effort to a couple of (now defunct) friendships, while I've also been the guilty friend who couldn't care less about hanging out with someone. Either way, one-sided friendships are a regular part of life, even in the celebrity world. In fact, a recent interview may have just revealed that Jennifer Lawrence and Kim Kardashian's friendship might be a little bit one-sided, too.
A New York City-based women's community center called The Wing interviewed J. Law on Friday, Feb. 23 — and while it was lighthearted and funny (as usual), it was also inspiring to watch. In the interview, which can be found on Facebook, J. Law gives viewers a glimpse into her glamorous (but also hilariously normal and super relatable) life. In addition to touching upon her involvement with the #MeToo movement, she discussed her friendships with Emma Stone, Cameron Diaz, and — most importantly — Kim Kardashian.
When the interviewer asked J. Law about her friendship with the reality star, the answer wasn't quite what I was expecting. Based on public interactions the two have had, from Kardashian's interview with J. Law on Jimmy Kimmel to J. Law's valentine from Kim K, I totally assumed the two were BFFs. But it sounds like Lawrence might be the only one who feels that way.
When the interviewer asked about their friendship, J. Law laughed, and said,
I don't know if she'd call me her friend. I think it might be a one sided friendship.
That might've been yet another one of Lawrence's endless self deprecating jokes (which actually wouldn't be a surprise), but there's also a chance that J. Law is just more into the idea of being friends with Kim K. We haven't heard anything from Kardashian-West about their friendship since the interview, but I'd like to think she considers J. Law to be a friend too — because how could she not? Regardless of their actual friendship status, I totally want to be Lawrence's friend... but it'd probably be a little one-sided on my part, if we're being honest. It's fine, J. Law, just go hang out with Emma Stone or someone else who's cool and famous, I guess.
Other than that one questionable statement, however, J. Law could not say enough nice things about the social media queen. She revealed to The Wing's interviewer that she went to dinner at the Kardashian house, and she was utterly and completely charmed by the entire family. Aside from the fact that she and Kris Jenner apparently got a little too turnt, she said that dinner was a fabulous time.
Beaming, she discussed the Kardashian-Jenner family in a super positive light:
They are smart, they are grounded, they are normal and funny. They're very nice people with a very close normal bond, which is a positive thing to put out in the world. They've been positively lovely to me.
The Jimmy Kimmel interview is totally a worthwhile watch, if you didn't catch it live. Lawrence took over for Kimmel for a night, and interviewed Kim K, who was totally opening up, like, more than ever. Even with J. Law's (expected) weird questions — from asking Kardashian-West if there's a coincidence that Reggie Bush's wife looks just like her, to inquiring if she and Kanye fart in front of each other — it 's beyond funny, and it's super fun to see the gal pals chatting it up. I'm not sure if Kim K would actually not consider J. Law to be a close friend, but their chemistry seems to prove otherwise.