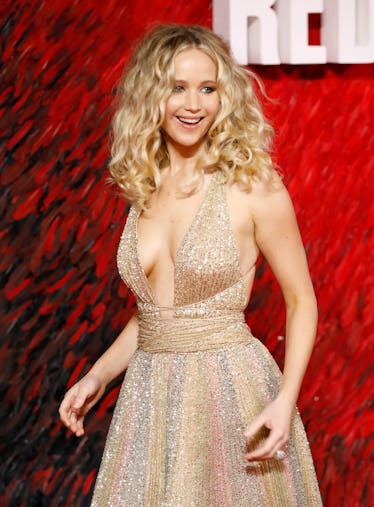 Jennifer Lawrence Auditioned For 'Twilight' Before 'Hunger Games' & She Spilled The Deets
Tristan Fewings/Getty Images Entertainment/Getty Images
Jennifer Lawrence as Bella Swan? It's hard to imagine the role portrayed by anyone but Kristen Stewart, but the four-time Oscar nominee could have been the lucky lady swinging through the Northwest forest with Robert Pattinson's Edward Cullen. Yes — Jennifer Lawrence auditioned for Twilight.
"I didn't really know what it was," Lawrence said of trying out for the Twilight role, opening up on The Howard Stern Show. "You just get like five pages [at the audition] and they're like, 'Act monkey.' And when it came out I was like, 'Hot damn. Whoa.'"
Of course, K. Stew landed the coveted YA lead instead of J. Law. The two skilled (and aptly nicknamed) actresses have both gone on to fruitful careers since the movie premiered in 2008, but we can't help but wonder what entertainment would have looked life if Jennifer Lawrence had gotten the part. Lawrence picked up her first Academy Award nomination in 2011 for her breakthrough performance in Winter's Bone and began her four-movie commitment volunteering as tribute for another young adult juggernaut franchise, The Hunger Games, that same year. She went on to earn acclaim for Silver Linings Playbook (for which she won the Oscar), as well as American Hustle and Joy.
Despite all her success, there's one role that didn't involve sparkling vampires that got away. And the disappointment hit her hard. She admitted:
Emma Stone and I had this conversation once, 'cause we used to always audition for the same thing, which now seems silly because our careers are so different. She got one thing that I was dying for, but the one thing that really killed me, like the only time I've ever been truly devastated by losing an audition... was Tim Burton's Alice in Wonderland.
Speaking of Emma Stone and jobs-that-could-have-been... Jennifer tried out for Easy A back in the day, as well. "I auditioned for Easy A. I wanted it so bad," she mentioned in last year's The Hollywood Reporter roundtable. "Well, guess what?" Emma responded in between laughs. "You didn't get it. You didn't get it because you suck!" Don't worry — they're good pals, and the quip was all in good fun. "We audition for all the same stuff," Lawrence added.
Another iconic role Jennifer Lawrence reportedly lost out on in her early acting days? None other than Gossip Girl's scandalous Upper East Sider, Serena van der Woodsen. Executive Producer Josh Schwartz revealed to Vulture last year,
We did not realize this at the time, but Jennifer Lawrence really wanted to play Serena and auditioned. This story came to us secondhand, but we were told she definitely auditioned and was bummed to not get it.
Of course, the gig famously went to Blake Lively who did the character proud.
Lawrence's latest role is in Red Sparrow, where she plays a Russian ballerina who ends up being forced into transforming into a manipulative spy. The always candid actress jokingly explained in an interview with Stephen Colbert: "It's entertaining, don't put any political weight on it... If you're a typical hater and you have a blog, don't go. You're officially, totally uninvited. I would like to officially uninvite all my haters to go see Red Sparrow ... I had two shots of rum and I'm talking about haters."
Jennifer has been working steadily over the past 10 years. She recently remarked she was ready to take a break from acting, telling Entertainment Tonight she plans on "working with this organization as a part of Represent.Us ... trying to get young people engaged politically on a local level." A rep later clarified her statements to EW, explaining that she will resume work once the projects that are in development are ready.
The truth is, we would gladly watch Jennifer Lawrence do pretty much anything — from interviewing Kim Kardashian to drinking rum with Colbert to acting her heart out in an Oscar-nominated performance.