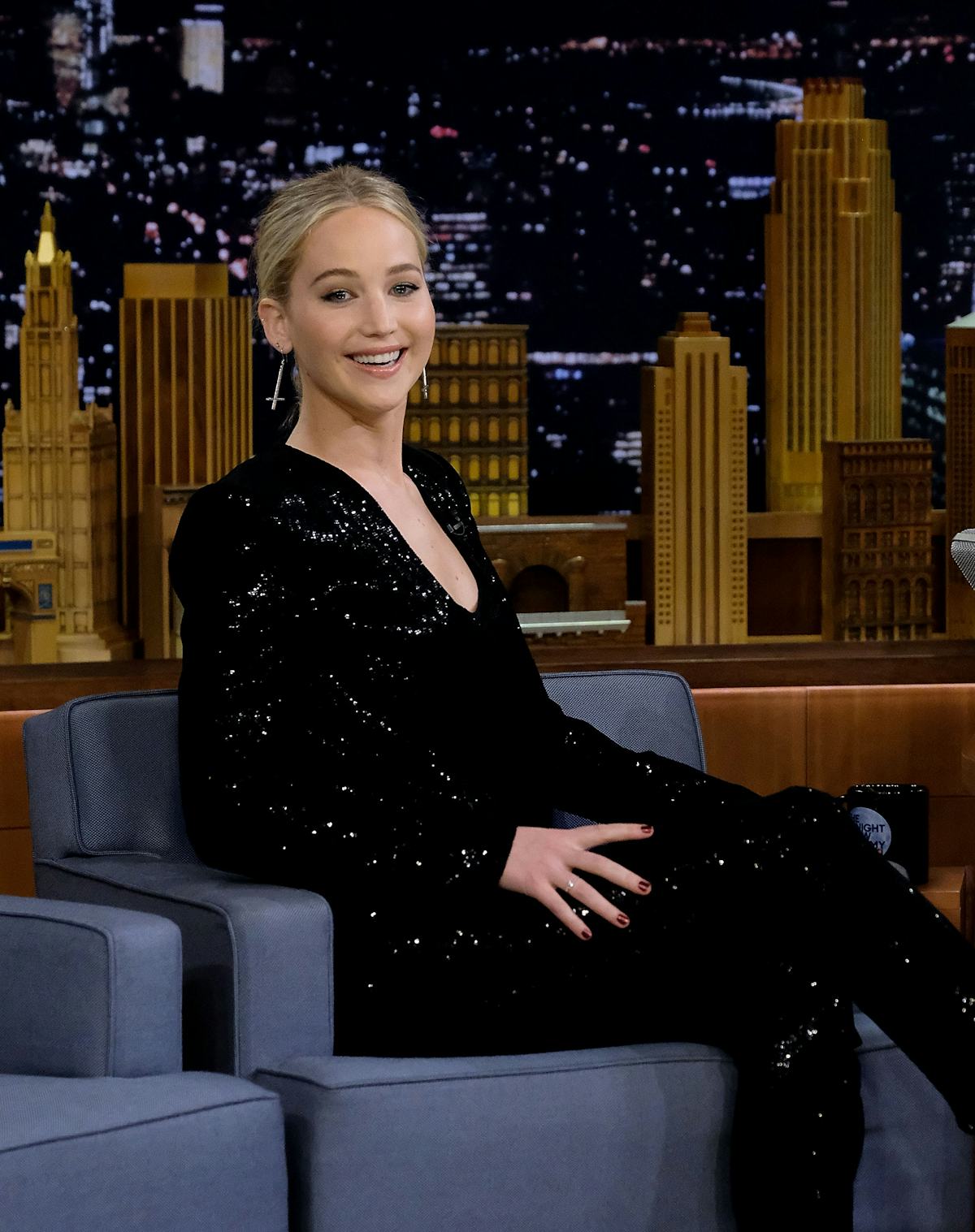 Jennifer Lawrence, Adele & Cameron Diaz Were The Best Squad At The Women's March
Jamie McCarthy/Getty Images Entertainment/Getty Images
This weekend people all over the world took to the streets for the second annual Women's March. And celebrities were no different! Jennifer Lawrence, Adele and Cameron Diaz protested together at the Women's March, giving us all major squad goals.
On Saturday, Adele posted a photo to Instagram with JLaw and Diaz at the Jan. 20 Women's March in Los Angeles, and captioned it with a beautiful message in tribute to the women who have inspired her. In her post, she expressed thanks for all the most influential women in her life. She wrote,
My family, my friends, my teachers, my colleagues, and my idols. I am obsessed with all the women in my life. I adore them and need them more and more every day. I am so grateful to be a woman; I wouldn't change it for the world.
It's so inspirational to see a bunch of women that we already admire for their talent and outspokenness getting together to fighting for what they believe in. Seeing three powerful (and famous) women banding together is a message to the rest of us to do the same. After all, everyone needs a girl squad to take on the patriarchy.
Adele, as a mother, also found it important to comment on having a son and wanting to raise him to be "a good man alongside the good man who loves me for everything I am and am not." Awww.
JLaw posted a photo of her own with Adele and Diaz.
Lawrence shared a shot on Facebook, where each held their own homemade protest signs and a caption that read, "I Stand in solidarity for Women's rights, equal pay, DACA, and CHIP." In the photo, the three celebrities are holding signs with slogans like, "A 'movement' should never take us backwards, it should only ever carry us forward."
Sadly, the third member of the marching squad, Diaz, isn't super active on social media these days, so no third pic to balance it out.
It's no surprise that JLaw included equal pay in her post.
Of course the wage gap is something that most women pay attention to, but it is an issue that Lawrence has been outspoken about. Back 2015, Lawrence penned an essay for Lena Dunham's Lenny Letter about being paid less than her male co-stars, after the Sony hack which revealed detailed information, including pay scales, about the studio. Lawrence described — in her very unique way — finding out that she was paid less when the leaked information was made public. She wrote,
When the Sony hack happened and I found out how much less I was being paid than the lucky people with d*cks, I didn't get mad at Sony. I got mad at myself. I failed as a negotiator because I gave up early. I didn't want to keep fighting over millions of dollars that, frankly, due to two franchises, I don't need. (I told you it wasn't relatable, don't hate me).
JLaw might not be relatable in terms of how much she makes, but the essay illuminated something this is probably very relatable to women, which is the idea that we spend so much time thinking about how we will come across or if we will sound ungrateful or spoiled if we ask for more. She wrote,
I'm over trying to find the 'adorable' way to state my opinion and still be likable! F*ck that. ... I don't think I've ever worked for a man in charge who spent time contemplating what angle he should use to have his voice heard. It's just heard.
Jlaw might have written that letter four years ago, but the the wage gap in Hollywood is still a pressing issue. Recently, Mark Wahlberg was paid $1.5 million for the All the Money in the World reshoots, while Michelle Williams was only paid $1,000.
We often think that celebrities are so far removed from our "civilian" reality, and in many ways they are, but a march like this shows how women all over the world face the same concerns and issues. I bet some of you went out with your own girl gangs and held up signs very similar to the ones celebrities did. At the end of the day, we all have things we are fighting for. It's kind of cool that celebrities might go through the same issues or worries that us normal folk do. Stars, they're just like us!