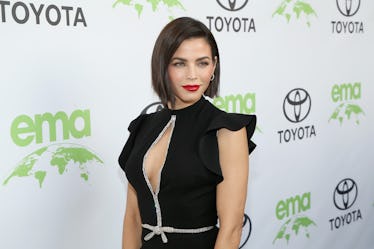 Jenna Dewan's Newest Project Will Make 'Step Up' Fans So Excited
Phillip Faraone/Getty Images Entertainment/Getty Images
The fact that TV networks manage to add several brand new shows to their lineups each fall and still have to turn down promising pilots becomes more baffling to me every year. Picking out the strongest ideas sounds pretty overwhelming, but luckily, there are plenty of streaming outlets for shows that may not make it on network TV. Such is the case for Step Up star Jenna Dewan's latest project, and it looks like fans who miss her dancing days will be obsessed with it. Jenna Dewan will star in Mixtape on Netflix, and the series sounds perfect for music lovers everywhere.
Originally marketed as a FOX pilot, Mixtape will focus on the different love stories connecting a diverse group of people in modern-day Los Angeles. Netflix describes it as a "musical drama series," which hopefully means that anyone who wanted a bolder and sexier Glee back in the day will be satisfied with Mixtape. The streaming platform has ordered 10 episodes for the show's first season, but if Netflix's recent successful track record with romantic stories is anything to go by, Mixtape could easily score itself another season.
Dewan will star as the character Joanna in a cast that also includes Marianne Jean-Baptiste, Callie Hernandez, Jahmil French, Campbell Scott, Megan Ferguson, and Revenge actress Madeleine Stowe. Deadline reports that the majority of the cast that filmed the FOX pilot will remain onboard for the Netflix version, but the male lead, originally played by Raúl Castillo, will reportedly be recast. See what I mean about the creation of new TV shows being so overwhelming?
Josh Safran, who created Quantico and worked as the showrunner for Smash, executive produces and writes the Mixtape series. Also a former writer for Gossip Girl, Safran took to Twitter to celebrate the unexpected news and his impending return to TV revolving around music. Musical theater nerds, time to unite for the sake of Mixtape!
Although FOX didn't pick up the pilot, Mixtape was reportedly a favorite project among network executives, which explains Netflix's willingness to adopt the series as its own. The continuation of the show adds on to an already busy schedule for World of Dance host Dewan, whose company Everheart Productions recently picked up an adaptation of the contemporary romance novel Roomies. If you need even more musical goodness in your life and have a soft spot for Broadway shows and subway buskers, you should definitely read the book before the film comes to fruition. Then you can top that off with a binge of Mixtape, of course.
The series also harkens back to Dewan's early days as a dancer in music videos. Before she starred in Step Up and we watched the steamy beginnings of her romance with now ex-husband Channing Tatum, she appeared alongside artists such as Mandy Moore and Janet Jackson in their music videos. Dancing isn't necessarily confirmed to happen in Mixtape, but what is a musical drama without some tapping feet?
Netflix taking on Mixtape is the third time this year that the outlet took on a new series rejected by its original broadcast network. After fans led an avid social media campaign to save the series, Netflix also picked up the canceled Lucifer, which aired for the past few years on FOX. So, yes, Netflix is quite literally saving the day on a regular basis lately.
Nowadays, darker, epic dramas may overtake the TV landscape, but it's nice to know that we have seemingly sweeter and calmer gems like Mixtape to look forward to. I'm down for anything that I can easily watch at the end of a long day with a pint of ice cream in my lap, so Mixtape will definitely find its way onto my Netflix queue.