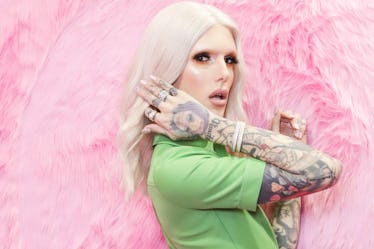 Jeffree Star's Tattoos All Have A Unique Story Behind Them
Rosdiana Ciaravolo/Getty Images Entertainment/Getty Images
There's probably a few things that come to mind when you think about Jeffree Star. His long history of internet drama might be the first, but when he's not stirring up controversy, Star is known for his insane tattoos. The beauty guru is quite literally covered from head to toe, and is never afraid to put them on full display. With more than 70 pieces on his body, Jeffree Star's tattoos will impress you to no end.
The bulk of Star's tattoos were inked by famed artist Kat Von D. The two aren't exactly friends anymore, but Star still says her artwork means the world to him. In 2016, when detailing each of his tattoos for the first time, he spoke on the special meaning tattoos hold for him.
"I spent a lot of time bonding and being tattooed from her," Star said of Kat Von D. "So, I just want to put it out there that no matter what she did to me, no matter what played out, at the end of the day, I respect her artwork. I think that she is one of the best portrait tattoo artists in the entire world."
"I am so proud to be covered by her work. She tattooed so many cool moments...even just the tattoo on my neck, that's my great grandmother who passed away when I was in high school, and she did this memorial piece on me. We had so many close sentimental moments and I will always respect her artwork," Star added.
Some of Star's ink is fierce AF, while other artwork on his body is more sentimental. But all of it is a must-see for true tattoo lovers. These are Star's most memorable and meaningful tattoos to date.