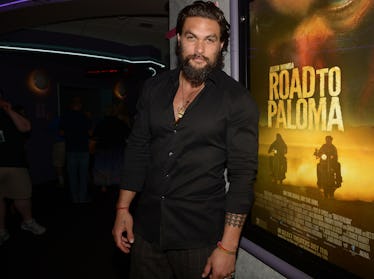 'Game Of Thrones' Star Jason Momoa Apologizes For "Hurtful" Rape Joke From 2011
Gustavo Caballero/Getty Images Entertainment/Getty Images
A former Game of Thrones star is speaking out to say sorry for his actions. Jason Momoa apologized for a rape joke he made in 2011 that recently received newfound attention. Footage from a Game of Thrones panel at Comic-Con six years ago resurfaced and went viral, featuring the Aquaman star's comments. In the video, the actor sits besides fellow GoT stars such as Peter Dinklage, Kit Harington, and Emilia Clarke. Addressing the room at Hall H in response to a question about working in the fantasy genre as opposed to the sci-fi one, he said,
But as far as sci-fi and fantasy, I love that genre because there are so many things you can do, like rip someone's tongue out of their throat and get away with it, and rape beautiful women.
The majority of his co-stars immediately launch into face-palms, but there's an audible round of laughter from the room. Momoa's insensitive remarks gained a lot of negative attention, as many Twitter users expressed their outrage and disgust over the joke.
Now, the star is attempting to take accountability for his words publicly. He took to Instagram on Thursday, Oct. 12 to extend his "sincerest" apologies and show that he now realizes how "hurtful" his words were. Momoa wrote in the post:
I awoke in Australia to the justified reactions by many people to a distasteful joke I made years ago in Hall H for which I am sorry. I am still severely disappointed in myself at the insensitivity of my remarks that day. I know my sincerest apology now won't take away those hurtful words. Rape and sexual harassment can reach anyone and I have seen first hand its painful torment among members of my own family and friends. I made a truly tasteless comment. It is unacceptable and I sincerely apologize with a heavy heart for the words I said. All apologies, Jason.
Momoa's words from Comic-Con in 2011 set off a firestorm of negative feedback on social media after the clip was unearthed, and some fans weighed in on how they were disappointed in the actor.
If you are not a Game of Thrones fan, Momoa's character Khal Drogo rapes his new wife, Daenerys Targaryen, in the first season of the hit HBO series. This doesn't excuse joking about sexual assault. Nothing ever should.
Momoa even spoke about the controversial scene with the New York Post back in 2011, saying, "Yeah, I'm raping Emilia [Clarke, who plays Daenerys]. I love her, but I'm hurting her and she's crying. We could have made it longer, but you get the idea. I'm not a rapist! I prefer my women to enjoy sex."
The comments that Momoa is apologizing for now have come to light in the wake of the recent reports of sexual assault and sexual harassment accusations against Hollywood producer Harvey Weinstein. Weinstein said in a public statement:
I appreciate the way I've behaved with colleagues in the past has caused a lot of pain, and I sincerely apologize for it. Though I'm trying to do better, I know I have a long way to go.
Weinstein's spokeswoman, Sallie Hofmeister, provided a statement to Elite Daily as well. She said,
Any allegations of non-consensual sex are unequivocally denied by Mr. Weinstein. Mr. Weinstein has further confirmed that there were never any acts of retaliation against any women for refusing his advances. Mr. Weinstein obviously can't speak to anonymous allegations, but with respect to any women who have made allegations on the record, Mr. Weinstein believes that all of these relationships were consensual. Mr. Weinstein has begun counseling, has listened to the community and is pursuing a better path. Mr. Weinstein is hoping that, if he makes enough progress, he will be given a second chance.
And Momoa isn't the only one making amends of late. His Justice League co-star Ben Affleck also landed in hot water for a years-old incident this week. The star used social media to apologize to former Total Request Live host Hilarie Burton, following the claim that he groped her while making an appearance on the MTV show.
Affleck has previously stated the he condemns Harvey Weinstein's alleged actions, denouncing his behavior on social media. Weinstein produced Ben Affleck and Matt Damon's Oscar-winning breakout film Good Will Hunting.
Apologies are often appreciated, but are they really just too little, too late? Hopefully, actions will start speaking louder than after-the-fact words and there will be no need for all the "I'm sorry" statements in the future.