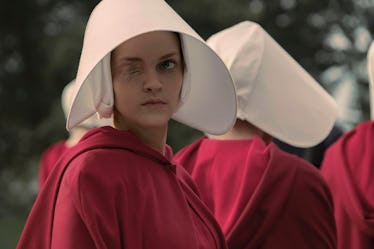 Here's What Janine From 'The Handmaid's Tale' Looks Like IRL (With Both Eyes)
George Kraychyk/Hulu
If you think June's situation in The Handmaid's Tale is bad, imagine being in Janine's shoes. The former waitress was ripped away from her son, had her eye taken out, gave birth to a daughter, and was sexually manipulated by her commander — and that was just in Season 1. It seems incredibly difficult to play Janine, but actress Madeline Brewer does a great job imbuing her character with heart. You may think that Brewer has some things in common with her character, but judging by her appearance, you'd be wrong: Janine from The Handmaid's Tale versus IRL looks totally different. Is it too early to give the costume and makeup team an Emmy for this epic transformation?
Brewer has totally transformed into Janine in The Handmaid's Tale, and losing an eye is just the beginning of it. The redhead kept her natural hair to play Janine, but other than that, she's pretty much unrecognizable as the unlucky handmaid. Brewer is only 26 years old, but her red handmaid's robe and minimalist makeup (if you can call no makeup "minimalist") make her look years younger. It also seems like the show's makeup team softened Brewer's face, which further contributes to Janine's overall youthful look.
This isn't the first time Brewer has completely transformed for a role. Back in 2013, Brewer played Tricia Miller in Orange Is The New Black Season 1, and she looks totally unlike herself (and Janine) in costume. Seriously, I had to stare at a picture of Tricia for like 5 minutes before I realized that it was actually Brewer under those dreads and sweats. I absolutely loved Tricia's character (I even dressed up as her for Halloween one year, no lie), but she tragically overdosed on Oxycontin and died in Season 1 Episode 10, so Brewer's time on the show was cut short.
In The Handmaid's Tale, Janine's story is just as tragic. Can't Madeline catch a break? In Season 1, Janine loses her eye for saying "f*ck you" to Aunt Lydia (it was an awesome move), and later, she suffers an emotional breakdown and tries to jump off a bridge with her baby daughter, Charlotte (aka Angela). Janine is supposed to be stoned to death as a punishment, but June leads the handmaids in a rebellion, and they refuse to throw a single stone.
In Season 2, fans finally see the result of June's rebellion: Janine is taken to the Colonies, the radioactive wasteland where Gilead sends its "unwomen" and political prisoners. Once there, Janine seems unnaturally optimistic and tells Emily that she's been "saved" from death — even though she's been sent to the Colonies to die.
After a short time in the Colonies, Janine and Emily are sent back to their old district to replace the handmaids that were killed in Ofglen's bombing. Janine soon learns that her infant daughter is gravely ill, and she (with June's help) persuades Aunt Lydia to let her into the hospital. After months of bad luck, something good finally happens to Janine: Her touch miraculously cures Charlotte, who recovers enough that she's able to go home.
While it remains to be seen where Janine will end up at the end of Season 2, Brewer hopes that fans will get to see her character's fiery side in future episodes. "I'd like to see Janine in action," Brewer told Teen Vogue. "I'd like to see her find her bravery, find her courage. She's been kind of a damsel in distress sometimes. She has power in her and I'd like to see her save the day one time."
After everything she's gone through, there's no denying that it's time for Janine to be the hero.