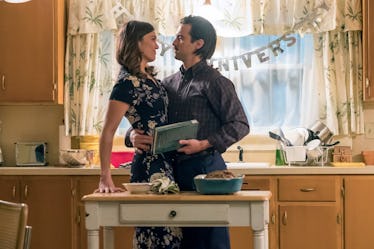 'This Is Us' Will Show Jack & Rebecca's Anniversary & It's So "Bittersweet"
The long wait is finally over, and This Is Us returns this week to share much happier chapters in the Pearsons' lives. The Feb. 27 episode "Vegas, Baby" veers away from the aftermath of Jack's death as the show delves into preparations for Toby and Kate's impending wedding. Focusing on the couple's bachelor and bachelorette parties, the episode's flashback storyline will be about Jack and Rebecca's anniversary when the kids were little. While I'm definitely anticipating a fluffier episode than what the season has recently delivered, Mandy Moore promises that the couple's wedding anniversary will still feel "bittersweet."
After seeing so much of the 1998 Pearsons before the show's Olympics break, this week's focus on the family's happier times is much appreciated. Speaking to Entertainment Weekly, Moore shared that the episode will introduce the classic TV parent trope of just wanting to celebrate their anniversary quietly after being so busy dealing with kids.
We come to the point where we don't necessarily want to go through all of the hoopla and maybe just have a quiet night in - and the kids have another idea together. It definitely is a lighter episode, and I think it will definitely be bittersweet, knowing what we've just gone through with these characters... I think moving forward now will be bittersweet for people to realize, 'Oh goodness, [Jack] really was this superhero and father.' And looking back at all the sweet moments that they shared, it might tug at the heartstrings a little bit more than usual.
Given how romantic Jack was even in the worst period of their marriage later on (he brought Rebecca to their old apartment for a night!), I don't think I'm ready for yet another display of how incredible Jack is. The rest of Season 2 also won't return to the immediate aftermath of his death, meaning that any upcoming Jack flashbacks will probably be of him as Super Dad when the Big Three were young. My heart will also completely shatter if any of his early relationship with Rebecca is shown before the March 13 finale. I mean, young Jack wooing Rebecca? Come on.
Series creator Dan Fogleman also spoke about instilling a lighter tone in the show to reward viewers for basically surviving Jack's passing. He also hinted at a desire to prove to fans that the show's heartwarming message is still intact even with the mystery of Jack's death solved. He said to Entertainment Weekly:
We have three episodes left in the season, and we wanted to show a bunch of things. We wanted to live in a regular episode of the series and show you, 'Here's how the show could exist as it did before and be really fulfilling - hopefully also have some lightness and some fun.' We feel like fans almost deserve a break, because it's been really heavy.
While fans only know of Jack's domestic ways and have a slight inkling of the trouble he got up to before meeting Rebecca, the last few episodes may also introduce Jack's experiences in Vietnam. Fogelman discussed why there's still plenty of material involving Jack for Season 3:
In many ways, Jack might be the character we still have the most to learn about, because he's kept so many secrets in this period before we've really known him. Vietnam is going to be a big part of where we're heading.
With these episode hints in mind, I don't think I'll need my tissues so close by while watching "Vegas, Baby." But then again, I'll probably hide a sneaky mini-pack of Kleenex under a couch cushion.
This Is Us returns on Tuesday, Feb. 27 at 9 p.m. ET on NBC.