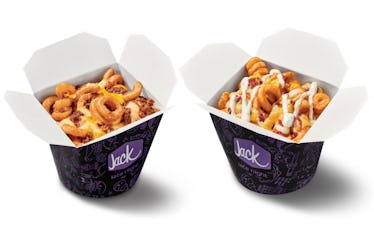 Jack In The Box Has Brand New Loaded Fries That Answer All Of My Cheesy Prayers
Jack In The Box
With the temperatures dropping and snow on the way, this is the perfect time of year to fire up your crockpot and cook up a cozy meal. If you are like me and don't have time to cook dinner on a nightly basis, then these brand new french fries from Jack in the Box are going to hit the spot. Jack in the Box's new Sauced and Loaded Fries are topped with epic toppings like cheese, bacon, and chili for a warm bite this winter.
Jack in the Box is stepping up to the plate this winter and serving up the comfort food of your dreams. French fries are hands down one of my favorite foods. The crispy potatoes go with just about any meal and are great even when served alone. But you know what really makes french fries great? Toppings. I'm not talking about your regular condiments like ketchup or mustard, either. I'm talking about fully loaded fries that will leave your belly more content than ever. Insert Jack in the Box's new Sauced and Loaded Fries. The newest menu items come in two flavors: Triple Cheese and Bacon Sauced Curly Fries and Chili Cheese Sauced Curly Fries. Is your mouth watering yet? I thought so, because mine is.
Each fry order comes served in a small box that is similar to what your Chinese takeout probably comes in. When you open the box, you will be greeted by a pile of perfectly-fried curly fries. The Triple Cheese and Bacon Sauced fries are loaded up with three different kinds of cheeses, according to Jack in the Box. The curly fries are then piled high with bacon for a nice, salty surprise and finished with a drizzle of sour cream for a little something extra.
You can expect your box of fries to be welded together by melted cheese. You know when you go to pull out a nacho from the pile and the cheese just clings on? That's what is going to happen when you dive into a box of Triple Cheese and Bacon Sauced fries from Jack in the Box. I'm not mad about it.
Next up are the Chili Cheese Sauced fries. Yep, this is basically a box of comfort food. Chili always reminds me of snuggling up under a blanket and watching a movie on a cold night. If you don't have time to make a pot of the cozy stew, Jack in the Box's Chili Cheese Sauced fries are the next best thing. These fries are smothered in a flavorful chili made with beef, according to Jack in the Box.
Oh, I can't forget to mention the cheese. That's a crucial ingredient for these Chili Cheese Sauced fries. The cheddar cheese is melted and mixed in with the chili and curly fries. Honestly, you won't be disappointed when you dig into these. It's hard to be let down by crispy curly fries and cheese, no matter what the other ingredients may be.
To properly eat these fries, you are going to need a few items nearby. First, make sure to grab some napkins. Second, I highly recommend using your fingers (hence the napkins), but using a fork is never a bad idea. Lastly, I'm not saying you need a bib, but it certainly wouldn't hurt to use one given all that cheese. I'll see you at Jack in the Box.