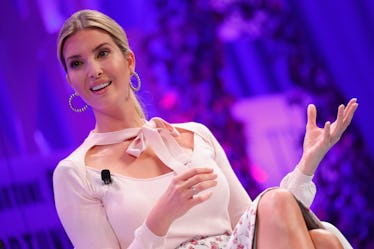 Ivanka Trump Apparently Had A "Punk" Phase And It Was... Not #Hardcore
Paul Morigi/Getty Images Entertainment/Getty Images
Long before she was part of an administration that, some would say, is wreaking anarchy in the U.S.A., Ivanka Trump had a punk phase, and it was hilariously short. According to her mother Ivana's new book, Raising Trump, the first daughter was "really into Nirvana." Kurt Cobain is rolling over in his grave.
Trump, whose mother was President Donald Trump's first wife, wrote a few sections in the book about getting in touch with her own teen spirit. In excerpts published by New York Magazine, the president's senior adviser wrote that her "wardrobe consisted of ripped corduroy jeans and flannel shirts." Ultimately, her punk style was undone after an incident when she dyed her hair — it really rocked the casbah.
One day after school, I dyed my hair blue. Mom wasn't a fan of this decision. She took one look at me and immediately went out to the nearest drugstore to buy a $10 box of Nice'n Easy. That night, she forced me to dye my hair back to blond. The color she picked out was actually three shades lighter than my natural color… and I have never looked back!
Trump's "punk phase" wasn't just relegated to choice in hair color. When it came down to Ivanka's stint as a fan of the subculture, her mom drew the line when she was devastated by Cobain's suicide. She wrote,
It wasn't too long after this that Kurt Cobain, the singer, songwriter, and guitarist for Nirvana, committed suicide. It was a shock and I was distraught. Mom had no idea who Kurt Cobain was, and she sympathized only so much. After twenty-four hours of my crying inconsolably in my room, alone — major melodrama — Mom had to pull me out of there to go down to dinner.
After all, there's nothing more punk then getting forced out of your bedroom for family dinner time in Trump household.
While Trump considers her love of Nirvana as part of a punk phase, in fact the band rose to prominence towards the end of the 1980s and early 1990s as part of the grunge rock scene. Thanks to popular songs like "Smells Like Teen Spirit," (which was certified platinum by the RIAA in 1992) "Lithium," and "Heart-shaped Box," the group was inducted into the Rock Hall of Fame in 2014. So, not exactly pushing against the mainstream.
In the years since Cobain's death from a self-inflicted gun shot wound at 27 1994, his musical and cultural legacy have grown. Cobain is also remembered for his transgressive attitude, which doesn't exactly square with a Trumpian view of the world.
"I have a request for our fans. If any of you in any way hate homosexuals, people of different color, or women, please do this one favor for us — leave us the fuck alone! Don't come to our shows and don't buy our records," he wrote in the liner notes of the 1992 album Incesticide.
Ivana Trump's book came out on Oct. 10, but an interview on ABC generated headlines when she said that she has a direct number to the White House. "I don't really want to call him there because Melania is there and I don't really want to cause any kind of jealousy or something like that because I'm basically first Trump wife, OK? I'm first lady, OK?" she told the network. God save the original queen, first wife, Ivana Trump.
Since the excerpts emerged, Twitter went in. Users photoshopped images of Trump as a punk and quipped about her less-than-hardcore street cred.
For her love of Nirvana, dalliance in blue hair and flannel, and Kurt Cobain fandom, it doesn't seem like Ivanka Trump will be saying all apologies anytime soon.