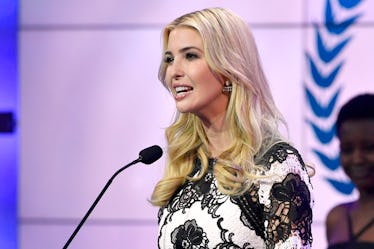 Ivanka Trump Quoted A "Chinese Proverb" & People In China Are Confused
Larry French/Getty Images Sport/Getty Images
In a message that seemed pretty clearly intended for critics, Ivanka Trump quoted a Chinese proverb in a tweet. There's just one problem, though, which is that Ivanka Trump's "Chinese proverb" doesn't seem like it originated from China at all. One reason why that appears to be the case?Actual people in China seem confused about the origin of the text Trump tweeted, which read, "Those who say it can not be done, should not interrupt those doing it."
A day after Trump posted the message, the South China Morning Post, a Hong Kong-based outlet, published a story about how Ivanka's tweet had prompted confusion on China's premier social media platform, Weibo.
Twitter is blocked in China, but a screenshot of Ivanka's tweet circulated on Weibo, where users opined about the source of the Trump tweet. Even the makers of Weibo, the tech company Sina, posted about the tweet.
"Our editor really can't think of exactly which proverb this is. Please help!" Sina's official account on Weibo posted, according to the South China Morning Post.
As both the South China Morning Post and The Washington Post mentioned, using the website Quote Investigator — which catalogues and hypothesizes about the origins of famous quotes — while searching the quote Ivanka Trump tweeted results in links to 19th century American figures.
The search result reads, "QI hypothesizes that the modern expression evolved from a comment about the rapidity of change and innovation at the turn of the century that was printed in multiple newspapers and journals in 1903."
In addition, a collection of famous quotes about innovation, compiled by The Economist in 2012, credits Elbert Hubbard with a quote similar to Ivanka Trump tweet: "The world is moving so fast these days that the man who says it can't be done is generally interrupted by someone doing it."
Hubbard was a philosopher and was mentioned in Quote Investigator's search result for the "Chinese proverb."
In other words, there's plenty of reason to believe that what Ivanka Trump tweeted is not an actual quote that originates from Chinese, never mind Asia. So, while people in China speculated about where Ivanka Trump could have gotten the quote from, a few people in these here United States outright called out the tweet.
Malaysian-born comedian Ronny Chieng, who serves as a correspondent on Comedy Central's The Daily Show, tweeted in Mandarin: "This is not a Chinese idiom."
Another comic, Jenny Yang, tweeted her own quote in response to Ivanka, "Anything sounds more important with quotation marks and a generic Chinese person saying it. - Chinese Proverb," Yang tweeted.
Besides the actual origin of Ivanka's quote, what is clear about the post is why it was written. Trump sent the post on Monday, June 11, just as President Donald Trump was in Singapore for a historic summit with North Korean leader Kim Jong-un.
The summit prompted criticism and skepticism from both notable conservative and liberal commentators who — generally speaking — argued that President Trump was handing a win to a brutal regime that showed very little actual evidence of a willingness to compromise.
"This feels like the agreed framework of the 90s all over again," Ari Fleischer, a Fox News commentator and former press secretary for President George W. Bush, tweeted on Tuesday. "[North Korea] gave its word to abandon its pursuit of nuclear weapons. They never intended to keep their word. And then they broke it."
As for Ivanka Trump's tweet, well, that one looks like it can be hung up in rafters of the arena of fake quotes, right next to Michael Scott's infamous proverb.