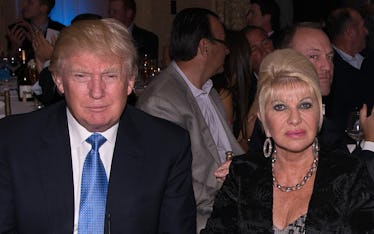 Ivana Trump Tells Melania That She's The Real First Lady & This Feud Just Keeps Getting Weirder
Dave Kotinsky/Getty Images Entertainment/Getty Images
There's a feud currently waging at the White House right now – and it doesn't have anything to do with Donald Trump (I know, I'm surprised too). Ivana Trump has been throwing some crazy shade while doing press for her book Raising Trump, and it's all directed at the first lady. Basically, Ivana told Melania that she's the real first lady, and this is all one big head scratcher.
The Ivana/Melania drama began during a Good Morning America interview on Oct. 9, when Ivana revealed that she and the first lady might have a bit of a rivalry. She explained,
I [don't] really want to call [Trump's White House] because Melania is there. And I don't want to cause any kind of jealousy or something like that because I'm basically first Trump wife. OK? I'm [the] first lady.
OK, so, yes, Ivana is definitely the president's first wife. She was married to her former husband for fifteen years, and the two share three children together. They also have eight grandchildren and, according to Ivana, still have weekly phone conversations, some of which involve discussing his Twitter presence (she's all for it).
But that makes her the first lady because... um...
Apparently Melania was not really feeling her husband's ex-wife's claims, because her spokesperson released the following statement in response,
Mrs. Trump has made the White House a home for Barron and the President. She loves living in Washington, D.C., and is honored by her role as First Lady of the United States. She plans to use her title and role to help children, not sell books. There is clearly no substance to this statement from an ex, this is unfortunately only attention-seeking and self-serving noise.
Yikes. That rather stern takedown wasn't enough to deter Ivana, though. The author appeared on on Oct. 13, and reiterated that she is, in fact, "first lady Trump."
"I tell you, I'm technically first lady Trump," Ivana told Williams. "I was first wife. I don't know what is Melania's problem. She just have to get over it. She is first lady of America, but I'm first lady Trump, excuse me, and have three grown-up kids."
So, she definitely doesn't think she's actually the first lady. She does, however, have some thoughts on what she would be like if she did have the title.
"Would I straighten up the White House in 14 days? Absolutely. Can I give the speech for 45 minutes without [a] teleprompter? Absolutely," Ivana told ABC News. "Can I read a contract? Can I negotiate? Can I entertain? Absolutely. But I would not really like to be there. I like my freedom."
She added that she thinks Melania must be having a "terrible" time in Washington. "It's better her than me. I would hate Washington," she said.
There have been some previous murmurings of other shady comments Ivana has made about Melania, including a 2015 report from The New York Daily News that alleged she said,
What is he going to do with his third wife? She can't talk, she can't give a speech, she doesn't go to events, she doesn't (seem to) want to be involved.
Ivana refuted those claims, telling Fox News on Oct. 10 that she thinks Melania is a "very nice girl." She added,
I sent to Melania the text [saying] the last thing I would want to do is say something bad about you, you know, because you are family and I don't say anything bad or do anything back to the family member.
Ugh. If our political climate weren't so serious and dire right now, this truly random feud might be almost entertaining. In the meantime, I'll head back to the guilt-free drama of the Kardashians.