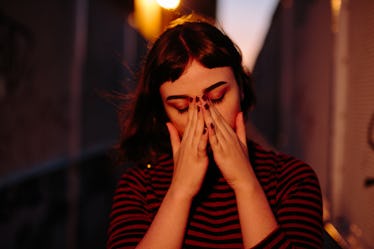 12 Times It's Your Pity Party & You Should Really Cry If You Want To
Pity parties have been categorized as not-so-celebrations that ultimately worsen your situation. But there's such a thing as a constructive pity party that allows you to cry it out for the time being (while still maintaining your adulthood status), and then moving on with life. You don't hear enough that it's OK to cry, because many people view that as weakness or feeling sorry for yourself. Kick that idea to the curb.
Societal definitions of crying have stripped it of one of the main things it allows us to do — letting go of things. Crying allows you to let all of those emotions out when you need to, instead of letting them all remain bottled up inside for quite some time.
You need that outlet, and no one has the right to tell you what is worth and not worth crying about. Just because you are an adult, that doesn't mean your crying sessions should be non-existent all of a sudden. In fact, crying says a little something about your emotional intelligence, if you ask me. Any of these situations are means for a small pity party thrown exclusively by you, where the streamers are the salty waterworks running down your cheeks. You'll get through this, girlfriend — so get to throwing that pity party.