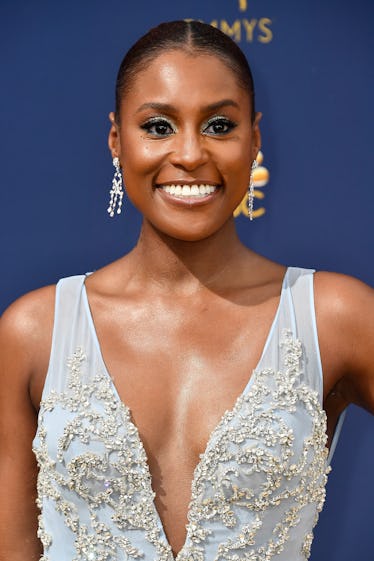 Issa Rae's Emmy Awards Look Features Over 3,000 Crystals, But She Still Shines Brighter
Frazer Harrison/Getty Images Entertainment/Getty Images
Actress Issa Rae was truly the belle of the ball at the 2018 Emmys. The star of Insecure, who got her first-ever nomination for Best Actress in a Comedy Series, graced the red carpet wearing a pastel blue Vera Wang jumpsuit with a long skirt over top and with off-white beading along the bodice. Rae revealed there are actually over 3,000 crystals on her dress, which took over 100 hours to make.
Rae's hair was super sleek, slicked down, parted in the middle, and styled into an intricate up 'do. Her beauty beat was the perfect complement to her outfit, with a light blue shimmery eye look and a nude lip. The star, who plays herself in her HBO hit series, opted for silver crystal accessories from Piaget, and kept her nails sparkling brighter than ever with the shade "Venture to the Venue" from Essie's unreleased Concrete Glitters collection, coming at you in November 2018.
In an exclusive interview with The Grio, the 33-year-old opened up about what it was like to find out she was finally nominated for the coveted award. "I was working," she said when she first got the news. "I was on set filming a scene with Marsai Martin from black-ish and Will Packer came out and was like, 'I need your attention, drop everything,' and I was like 'Oh sh*t, what did I do wrong?'"
"I just couldn't believe it," she continued. "I was also embarrassed because he did it in front of all those people, but it was just a magical moment."
Insecure has quickly become a fan favorite since its 2016 debut, with Twitter going wild every Sunday night as fans dissect the episode — and Rae knows exactly why her show and several others with diverse casts are all doing so well.
"You have so many people behind the camera and behind the scenes that are committed to telling authentic, real stories that haven't been seen on television before," she told Variety on the 2017 Emmys red carpet. "And you have audiences embracing it because they're tired of seeing the same old, same old stories. So it's just a pleasure to be among such great company."
That said, the actress made it absolutely clear about who she would be cheering on that night. "I'm rooting for everybody black," she said. "I am!"
But TV roles and nominations aside, the Los Angeles native has become what many would consider to be a fashionista over the years, strutting down numerous red carpets looking quite exceptional each time. Rae even hosted the annual Council of Fashion Designers of America (CFDA) awards at the Brooklyn Museum in New York City back in early June.
So what's Rae's ultimate style secret? According to her stylist Ayanna James, it's all about just being herself. "Styling her, I don't try to make her something she's not," she told Mic. "I love who she is. Whatever I put her in, it has to feel like who she is. She doesn't do a lot on the red carpet. She doesn't go on a red carpet and pout and be someone who she's not."
As far as tonight's Emmys go, it's easy to see that this fact remains true, considering that her look shines just as bright as she always does.
Can't wait to see what red carpet this star will conquer next.