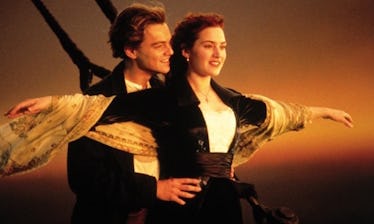 'Titanic' Left Netflix But It's Coming To Hulu, So You Never Have To Let Go
Paramount
Your glued-to-the-couch schedule is about to get a whole lot more crowded, because one streaming service is totally delivering when December rolls around. Hulu is pulling out all the stops this holiday season and bringing fans the gift of entertainment in the form of a handful of movie and TV favorites, and there's one film in particular that is sure to get people's attention. If you've ever asked, "Is Titanic on Hulu?," come December the answer will be YES.
You know you've been there. There are at least four prestigious dramas on your radar waiting to be watched. Your friends are counting on you to catch up on Alias Grace or finally see that indie they've been buzzing about since last year. But you just can't do it. All you want are your precious '90s re-watchable favorites. Hulu gets that.
That's why December will start serving up old standbys like the biggest movie of the decade — Titanic. There's also First Kid, Space Jam, and 3 Ninjas. Is their programming manager me in 1997?
In addition to those exciting titles, you can expect Rocky I - V, both Kill Bills, Silence of the Lambs, and Apocalypse Now. Their rom-com game is also strong, as they're adding Moonstruck, Sweet Home Alabama, Hitch, and Kate and Leopold. Horror fans can gear up for Child's Play and Stigmata and if you need to get your Robocop fix, there's three of 'em to choose from. Oh — and let's not forget Superbad.
Tis the season for binge-watching and movie marathons.
Check out the full list of what will be available on Hulu in December and when below, and start planning accordingly:
Dec. 1
East Los High: Finale Event (Hulu Original)
The History of Comedy: Complete Season 1 (CNN)
Inside Number 9: Complete Season 2 (BBCWW)
Tree Fu Tom: Complete Seasons 3 & 4 (Sprout)
Trust Me: Complete Season 1 (StudioCanal)
The Wine Show: Complete Season 2 (Sky)
3 Ninjas (1992)
A Christmas Wedding Tail (2011)
The Adventures of Ichabod and Mr. Toad (1949)
A Princess for Christmas (2011)
Aliens of the Deep (2005)
Apocalypse Now (1979)
Apocalypse Now Redux (2001)
At Close Range (1986)
Basic Instinct 2: Risk Addiction (2006)
The Black Cauldron (1985)
Bloodsport (1988)
Breakheart Pass (1975)
The Brothers Grimm (2005)
Buffalo 66 (1998)
Cheri (2009)
Chicago (2002)
Child's Play (1988)
Chilly Christmas (2012)
Coopers Camera (AKA Coopers' Christmas) (2010)
The Count of Monte Cristo (2002)
Crazy/Beautiful (2001)
Dirty Rotten Scoundrels (1988)
Downhill Racer (1969)
Driftwood (2006)
Everything You Always Wanted to Know about Sex… (1972)
Evita (1996)
Extortion (2017)
The Falcon and the Snowman (1985)
The Final Cut (2004)
First Kid (1996)
The French Lieutenant's Woman (1981)
George of the Jungle (1997)
Hammett (1982)
Hannibal (2001)
Heaven's Gate (1981)
Hitch (2005)
I'll Be Home for Christmas (1998)
The Improv: 50 Years Behind the Brick Wall (2013)
In & Out (1997)
In Enemy Hands (2003)
In the Line of Fire (1993)
Jack (1996)
Kill Bill: Volume 1 (2003)
Kill Bill: Volume 2 (2004)
L7 Pretend We're Dead (2016)
The Last Warrior (2000)
Light Sleeper (1992)
Meet Wally Sparks (1997)
A Midsummer Night Sex Comedy (1982)
The Missing (2003)
Mississippi Burning (1988)
Moonstruck (1987)
Mr. Wrong (1996)One from the Heart (1982)
One Magic Christmas (1985)
P2 (2007)
Penelope (2008)
The Perfect Score (2004)
Political Animals (2012)T
he Pope of Greenwich Village (1984)
Presumed Innocent (1990)
Primal Fear (1996)
Puppetmaster: Axis Termination (2017)
Red Corner (1997)
Robocop (1987)
Robocop 2 (1990)
Robocop 3 (1993)
Rocky (1976)
Rocky II (1979)
Rocky III (1982)
Rocky IV (1985)
Rocky V (1990)
S.F.W. (1995)
Sarafina! (1992)
Searching for Bobby Fischer (1993)
Searching for Sugar Man (2012)
Serpico (1973)
Shelby: A Magical Holiday Tail (2014)
Silence (2016)The Silence of the Lambs (1991)
Space Jam (1996)
Stealing Harvard (2002)
Stigmata (1999)
The Three Musketeers (1993)
The Thomas Crown Affair (1968)
Three Men and a Baby (1987)
Titanic (1997)
Total Recall (1990)
Valkyrie (2008)
The Water Horse (2007)
The Weight of Water (2002)
Winnie the Pooh, A Valentine for You (1999)
Without (2011)Wristcutters: A Love Story (2007)
The Yummy Gummy Search for Santa (2012)
Dec. 2
Marvel's Agents of S.H.I.E.L.D.: Season 5 Premiere (ABC)
Dec. 3
Cop Land (1997)
Sweet Home Alabama (2002)
The Rules of Attraction (2002)
Dec. 4
Frontera (2014)
Superbad (2007)
Dec. 5
The Great Christmas Light Fight: Season 5 Premiere (ABC)
Iron Protector (2016)
Dec. 6
Shut Eye: Season 2 Premiere (Hulu Original)
Killers (2015)
Dec. 8
Defining Moments: Season 1 Premiere (ESL)
The Great American Baking Show: Season 3 Premiere (ABC)
Legion: Complete Season 1 (FX)
Crank: High Voltage (2009)
Legion of Brothers (2017)
Dec. 9
Dave Made a Maze (2017)
Dec. 11
Steven Universe: Complete Season 4 (Cartoon Network)
Dec. 12
Younger: Complete Season 4 (TV Land)
Holiday Fairy Tale Wedding: Special (Freeform)Foreman (2017)
Dec.13
Vengeance of an Assassin (2014)
Dec. 14
Bunheads: Complete Season 1 (Freeform)
Dec. 15
40 Days and 40 Nights (2002)
The Crow (1994)
Everest (1998)
Kate and Leopold (2001)
The Limehouse Golem (2017)
Score (2016)
Tears of the Sun (2003)
Dec. 16
The Next Step: Complete Season 5B (BBC)
Available Dec. 18
Graves: Complete Season 1 (Epix)
Made In Chelsea: Complete Seasons 1-13 (E4)
Mighty Magiswords: Complete Season S1A (Cartoon Network)
Ragnarok (2013)
Dec. 19
Decorating Disney: Special (Freeform)
Dec. 20
Kim Dotcom: Caught in the Web (2017)
Dec. 21
Lemon (2017)
Dec. 22
Goat (2016)
Monster Trucks (2017)
Dec. 23
Clarence: Complete Season 3 (Cartoon Network)
Banksy Does New York (2014)
Someone Marry Barry (2014)
Dec. 24
The Detour: Complete Season 2 (TBS)
Dec. 25
United Shades of America: Complete Season 2 (CNN)
The Hollow One (2015)
December 28
Anjelah Johnson: Mahalo & Goodnight (2017)
Literally Right before Aaron (2017)
December 29
Gilbert (2017)
Rings (2017)
Dec. 30
The Art of the Game: Ukiyo E Heros (2017)
Dec. 31
Always Watching (2015)
Anarchy Parlor (2015)
Osiris Child: SFv1 (2016)
Pilgrimage (2016)
Solace (2016)