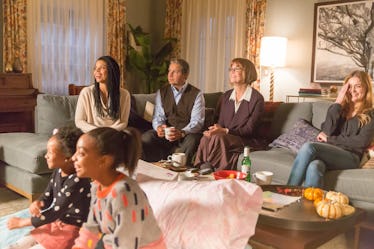 A 'This Is Us' Thanksgiving Episode Is Coming, So Grab Your Turkey & Tissues
Ron Batzdorff/NBC
Nothing is better during the holiday season than a cozy Thanksgiving dinner with the Pearsons on This Is Us. Although the Pearsons' holidays, both past and present, have always included a dramatic twist, these antics over family dinner are exactly what make the show so relatable. Not much can beat the sentimental sweetness of the first season's "Pilgrim Rick," but is there a 2018 This Is Us Thanksgiving episode? NBC promises an "unforgettable" holiday story this year ahead of Turkey Day.
This Is Us explained the family's typical Thanksgiving traditions in 2016's "Pilgrim Rick," detailing a holiday from the Big Three's childhood when the kids and their parents became stranded en route to Rebecca's mother's house. After checking into a motel, the family turned to vending machine food and slightly inappropriate VHS tapes for a last-minute celebration, unraveling Kate's itchy sweater as a tally of what each of them is thankful for. In present day, Rebecca and the kids have introduced the routine of that night to the rest of the family, and Randall particularly loves the ritual — because a Thanksgiving dad is a hot dad, right? Last year's Thanksgiving season played out alongside the show's Big Three-focused episode trio, so it's been awhile since we saw the Pearsons celebrate the special day.
This Is Us is now heading back to its holiday roots for its Nov. 20 episode, but it looks like the Pearsons are adding something new to Thanksgiving in 2018. The promo for "18,615" shows Beth, Tess, Annie, and Deja serving food at a shelter, hinting that they may give back to the community in the name of Randall's political campaign. The clip also promises a time-jumping episode including the last Thanksgiving before Jack's death and a Thanksgiving he spent in Vietnam seemingly alongside his mystery woman. William even pops up, hinting that we'll see flashbacks to the Thanksgivings he spent with his old neighbors. While Kate and Toby appear at Beth and Randall's dinner table, Kevin and Zoe are MIA, meaning they're likely still in Vietnam together.
Without the whole gang together, it doesn't look we'll see a repeat of someone donning the Pilgrim Rick hat this year. After checking in with the Pearsons in current day and the '90s, the episode will also dive deeper into Jack and Nicky's relationship following Nicky's brief transfer to Jack's war unit. Executive producer Isaac Aptaker told Entertainment Weekly:
We're going to pick right up with a much meatier interaction for them. Next week is our Thanksgiving episode, so we're going to see what Thanksgiving is like for our soldiers over there — and learn a lot more about the woman with the necklace.
Of course, it wouldn't be a true holiday episode without a heartfelt talk from Dad. The promo teases Jack comforting Miguel about his relationship with his kids, who we've yet to see. This particular timeline is soon after Miguel's divorce, and if his children grew distant from him following the split, Miguel taking care of the Pearsons after Jack's death is even more heartbreaking. Amidst its holiday hope, This Is Us is definitely beginning the Team Miguel trend. Between this transition and learning more about the Vietnamese woman, I'm buying my tissues for "18,615" ASAP.
Season 3 of This Is Us continues on Tuesday, Nov. 20, at 9 p.m. ET NBC.