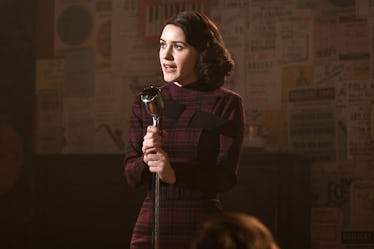 Here's What Fans Should Know About Midge's Character In 'The Marvelous Mrs. Maisel'
Amazon Studios
After easing fans in with the caffeinated convos on Gilmore Girls and the heartfelt dance routines on Bunheads, TV mogul Amy Sherman-Palladino struck gold in 2017 with her Amazon Prime series The Marvelous Mrs. Maisel. The 2018 Outstanding Comedy Emmy Award winner has been nominated for 54 Emmys throughout its three seasons and won 16 of them. With so many accolades pouring in, new viewers are constantly tuning in to see what all the fuss is about. If you haven't already, it's time to clear up any questions you may have. The story may feel incredibly vivid, but is The Marvelous Mrs. Maisel based on a true story? Although it takes inspiration from real life and elements of creator Sherman-Palladino's childhood, the show is mostly fictional.
Its countless Emmy Award wins have officially stamped The Marvelous Mrs. Maisel with Hollywood's approval, and the story's leads are a big part of what makes the show shine. Rachel Brosnahan won her own Emmy Award in 2018 for her portrayal as the plucky, aspiring stand-up comic Midge. Her co-star Alex Borstein was also recognized as the Outstanding Supporting Actress in a Comedy for her role as Midge's abrasive manager Susie two years in a row.
The two women headline the series, set in 1950s New York and chronicling Jewish housewife Midge's attempts at a comedy career soon after her husband abruptly leaves her. At first glance, Midge reminds the typical modern viewer of the late Joan Rivers, who rose to fame in the 1960s for her bold comedy routines. While shades of Rivers definitely influenced the character's origin story, the initial idea stemmed back to Sherman-Palladino's own father, comedian Don Sherman. She grew up listening to her father and his friends trying out jokes with each other, and as Sherman-Palladino said while accepting the 2018 Emmy Award for Outstanding Writing for a Comedy Series, she "had to turn a six-foot-two Bronx Jew into Rachel Brosnahan."
Sherman-Palladino has also spoken about honoring Rivers' legacy on the show, telling Vanity Fair, "She had that wonderful mix, that battle of wanting to be accepted on a feminine level — [but] you can't have that many balls and be accepted on a feminine level... Going forward, that's how we're looking at Midge's humor."
Getty Images/Hulton Archive/Getty Images
Brosnahan also looked toward Rivers and her own family members when shaping her perception of Midge, telling InStyle:
[Midge and Rivers are] very different, but something about their drive is similar, I think. Also, my grandmother and Midge shared a lot of traits. My grandmother is a fabulous, fabulous woman... I've been researching a lot about actors and actresses during this time. She's a young Jewish woman, so I've been brushing up on my Jewish history all the way leading up to the '50s and '60s.
Based on Midge's character's longstanding connection with the fictionalized version of real-life stand up comic Lenny Bruce, Midge may be inspired by another 1960s female comic. Sadly, Bruce tragically died of a drug overdose in 1966, and his impending death has loomed over the show as he and Midge grow closer. While 1966 is a far way off at this point in the story, Bruce's girlfriend at the time of his death was comic Lotus Weinstoc, so it's hard not to draw a connection.
As for other subtle parallels between real life and fiction, fans of the series have also suggested that Phyllis Diller inspired Midge's fellow comedian Sophie Lennon. Brosnahan also revealed Jean Carroll, one of the first female stand-ups, was a significant influence on the character of Midge.
The show's cast has also opened up about how the show's storylines reflect their own careers in standup. In a December 2018 interview with The Hollywood Reporter about Season 2, Borstein revealed a lot of Midge and Sophie's stories resonated with her as a female comic who experienced sexism in an industry often regarded as a boys' club.
"I didn't tour, and I wasn't a huge practicing stand-up, but I did a lot of open mics," she explained. "One of the reasons I hated doing it was that feeling backstage. It felt very much like a club I wasn't invited to, or wasn't a part of. So it was nice to see Midge stand up and just take her space and own it, and push it down their throats a little bit." That's why Borstein thinks it would have been helpful to have a female friend (and advocate), like Midge has in Susie, when she was trying to make it as a comic. "I remember many times going to do open mics at places and I would just give up. It would be 2 a.m. and there's no crowd left and I'd just be like, 'F*ck it, you win, I'm leaving.' It's definitely true that if Midge had gone alone — I would always go alone to these things — and I think if she had gone alone, she absolutely would have left. I think with Susie there, they both kind of have to be accountable for each other."
Clearly, the show's actual time period was not without its own Midge Maisels, but as for the Midge we've fallen in love with on TV, she's a delightful concoction of Sherman-Palladino's imagination.
The Marvelous Mrs. Maisel was renewed for Season 4 on Dec. 12, 2019, though a premiere date has not been announced. While new seasons typically premiere in December, it's unclear if that will be the case for Season 4 due to the coronavirus pandemic halting production across the board in Hollywood.
Additional reporting by Elite Daily staff.
This article was originally published on