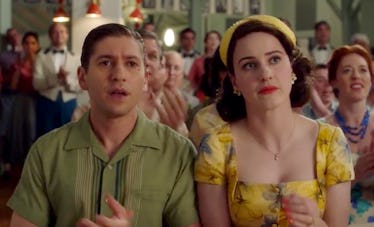 Here's What 'Marvelous Mrs. Maisel' Fans Should Know About Steiner's IRL
Amazon
While pretty much the entirety of the first season of The Marvelous Mrs. Maisel was confined to Manhattan, New York, Season 2 wastes no time in moving to a variety of new settings. One of the most notable new locations is Steiner's Resort in the Catskills, where Midge Maisel spends every summer with her parents and pretty much every other Jewish family from New York City, it seems. The summer resort is so prominent in the new season, that viewers may be wondering, is Steiner's a real place? While a Catskills lodge named Steiner's does not seem to have ever existed, Steiner's does represent a very real tradition among Jewish families from New York City in decades past.
Spoiler alert: This post contains light spoilers for the first five episodes of The Marvelous Mrs. Maisel Season 2. It is immediately apparent that the new season of Mrs. Maisel will not remain completely set within lower Manhattan like Season 1. The premiere episode is set almost entirely in Paris, as Midge and Abe play across the ocean to try to convince a newly independent Rose to return to her life in New York. Just a couple episodes later, the family sets off on a trip much closer to home: the Catskill Mountains. Susie is shocked to learn that Midge goes to the Catskills with her family every summer for two months.
Anyone who has seen the 1987 classic Dirty Dancing probably got major deja vu when the Weissman's pulled up to Steiner's Resort, their Catskills home for the next couple of months. That movie also revolved around a Jewish family spending the summer at a beautiful Catskills resort that was filled with activities and family friends.
In fact, these Catskills summer resorts were a huge part of New York Jewish culture from the 1920s to the 1970s. Although Dirty Dancing's Kellerman's Resort and Mrs. Maisel's Steiner's Resort are not real places, they do represent the scores of large resorts that were populated by Jewish families from New York every summer back in the day.
Towards the middle of the 20th century, the Catskill Mountains became better known as the Borscht Belt, or the Jewish Alps, as an indicator of the large number of Jewish families who would spend their summer vacations there. The reason for this was antisemitism in America and the relative novelty of commercial air travel, which denied Jewish families living in New York City many options for their summer vacations. Jewish families began to summer in the Catskills, and the area grew into its own resort town that catered specifically to Jewish families.
It makes particular sense that Susie pushed Midge Maisel to book stand-up gigs while at the Catskills because the area is actually iconic for Jewish comedians. Stand-up comics like Jerry Seinfeld, Joan Rivers, Jerry Lewis, Andy Kaufman, and more all point to the Catskills as where they honed their craft. And although Steiner's may not be real, the place that Midge books her big Catskills debut is. The Concord Resort Hotel was one of the most well-known resorts in the Catskills, so it is no wonder why Midge was so nervous about performing there.