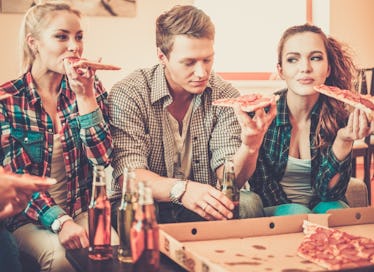 Here's Why Experts Say It's Sometimes OK To Date Your Roommate's Ex
Dating a friend's ex can be really tricky. There's a reason people say it's "off limits." It's just about respect, not to mention it can get really complicated. But here's the thing: Sometimes, the heart doesn't make sense and it just wants what it wants. Like, for instance, what if you fall for your roommate's ex? Is someone your roommate dated definitely off limits? Or is there some way to make this relationship work without sacrificing your friendship or having to order a U-Haul and a change-of-address form?
Well, there is no easy answer here, because, yes, things are about to get complicated. And yet, the experts say that if that's really what your heart wants, it's not impossible to make it work. "Just like dating any friend's ex, yes, you can date someone your roommate previously dated if you follow certain parameters," Laurel House, celebrity dating and relationship coach and host of Man Whisperer podcast, tells Elite Daily. House cautions, however, that in order for this situation to not blow up your friendship, you have to really consider the feelings of everyone involved. Trina Leckie, breakup coach and host of the breakup BOOST podcast agrees. "It would definitely depend on a number of factors such as how long ago they dated, how long they dated, why the relationship ended," Leckie tells Elite Daily. "Most importantly though, you would need to ensure your roommate was 100 percent OK with it." That won't be easy, but if you're ready to do that work and take that risk, here is how the experts say you can help improve the odds of making this tricky situation work.