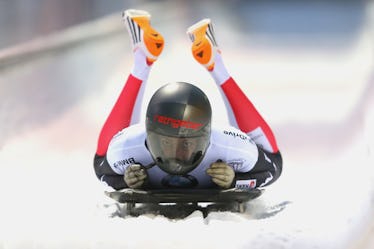 The Most Terrifying Sport In The Winter Olympics Is Not What You Might Think
Alexander Hassenstein/Getty Images Sport/Getty Images
It is almost time for the PyeongChang 2018 Winter Olympics, starting Feb. 8, and with the Olympics comes a lot of adrenaline-fueled high-risk games that would make any normal person at home ask, "But why?" There is one sport that is fairly new on the Olympic scene and has had a rise in popularity, called skeleton. The sport is fast and uses the full body, and the real question remains if is skeleton dangerous. It sure looks that way, at least.
Skeleton first appeared in the 1928 Olympics and then once more in the 1948 Olympics. After that run it didn't appear again until 2002, according to New York Times Magazine. If you're wondering what skeleton is, it's kind of like luge, but granted most of my information on luge comes from the movie Cool Runnings, which is actually all about bobsledding, something I recently found out is not the same thing as luge. So skeleton is a sport that involves people riding a small sled, known as a skeleton bobsled, down an ice track while lying face down. Skeleton is kind of like luge in that they are both sports that involve sliding on ice with little protection. However, in skeleton you are soaring down that ice head-first in what looks like a pretty pricey sled.
At this moment, you are probably trying to figure out if you would rather go feet first or head first down a slide of ice... good luck. The sport looks extremely terrifying, but according to Slate, skeleton is actually not as fast as the other sliding sports. At the Sochi 2014 Olympics, United States competitor Matthew Antoine took home a bronze in men's skeleton with a maximum speed of 129.2 kilometers per hour, which is about 80.3 mph. In comparison, the top American luger, Christopher Mazdzer, topped that speed with 137.3 kilometers per hour, which comes out to 85.3 mph, and was only able to earn 13th place.
So it looks like skeleton might be dangerous, but at least it's not as fast as luge.
Despite the speeds maybe being lower, skeleton takes a huge toll on your body. You have to pack your entire body onto the "sled" as aerodynamically as possible. The athletes must tuck their head down until it's nearly touching the ice, while at the same time making sure their eyes are up so they can see ahead of them — and also flattening their shoulders down.
"It's really uncomfortable," Katie Tannenbaum, a skeleton athlete from the Virgin Islands told New York Times Magazine in a piece published on Feb. 2. "Try doing it for more than a few seconds." I won't be trying that. Aside from just the sheer speed of it all, the idea of holding your body tightly together and pressed down on the sleigh while also keeping your head down and controlling your movements sounds painful.
The whole thing sounds just terrible. I mean, unless you are into that sort of thing. Which is true for the hard-working athletes who have devoted their lives to this seemingly dangerous sport. Back in 2010, Salon reported that most skeleton athletes don't find safety to be a concern. John Daly, U.S. skeleton competitor in the Vancouver 2010 Olympics, told Salon, "If you get away from the sled, it's just like sliding down ice, only a little bit faster. You'll eventually stop with some burns on your butt." But he also noted that his fellow competitor and roommate, Luke Schulz, cracked his head open (and recovered).
According to Salon, skeleton is actually regarded as the safest of the sliding sports, mainly because its steering mechanism is more subtle and precise than luge so turns are not as risky. The sled is also lighter than the luge sled or the bobseld. "If the bobsled rolls over on you, that's 500 pounds," Daly said. But skeleton sleds are under 95 pounds.
Regardless of how uncomfortable skeleton might be, it has provided for some incredibly bold fashion accessories.
At the Sochi 2014 Olympics the skeleton riders (sliders?) rocked some of the coolest helmets. Because of the way their bodies lay, the helmet is most of what you see coming down the ice, and the athletes took full advantage of that.
Take a look at these:
I do not want to see any of these people in the dark, or coming at me on the ice and ridiculous speeds.
So how dangerous is skeleton? I think it is safe to assume that any sport in which you are travelling at high speeds down ice is going to post some high risk. Sure, luge is faster, but who cares? Props to both sides and any person who decides that they are going to make a career out of being very, very close to the ground and going very fast while other people cheer in amazement from the comfort of their seats. Better them than me.
To learn more, visit teamusa.org. The Winter Olympics will air live, starting Feb. 8.