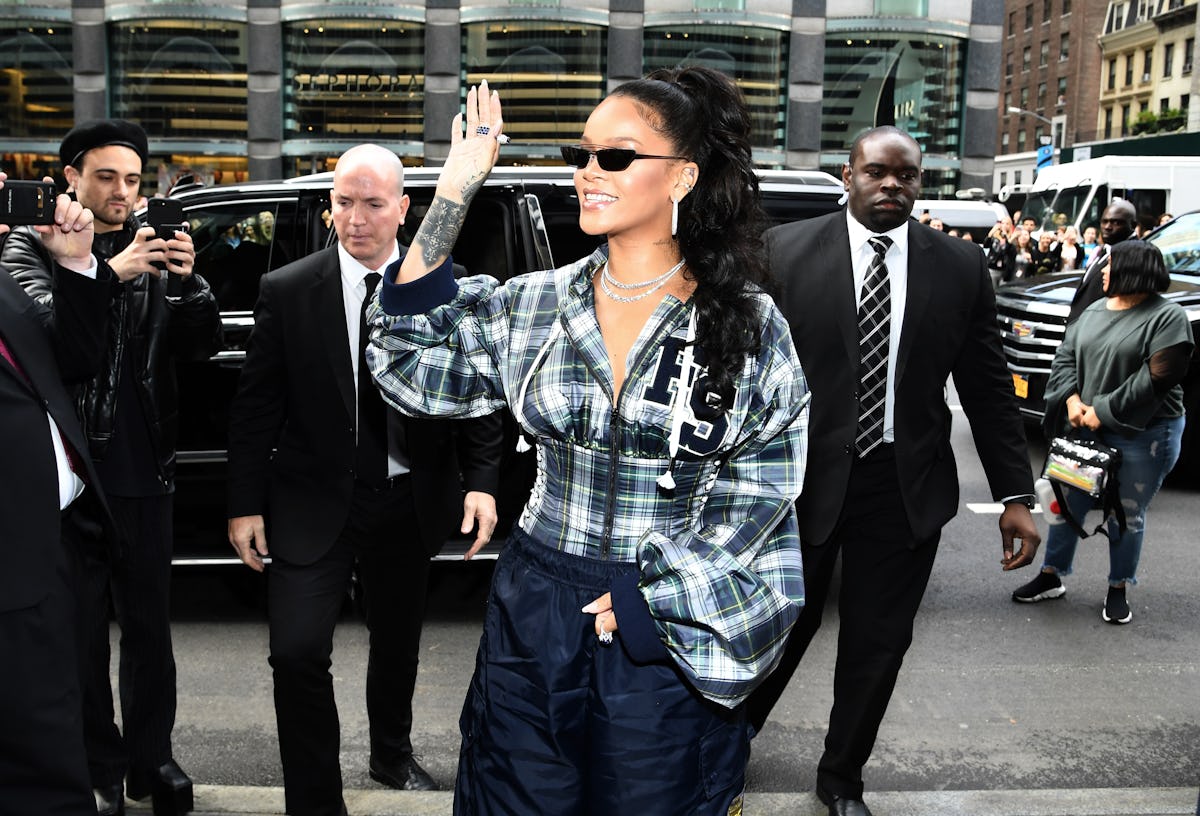 Rihanna's Gorgeous New Ring Has Fans Convinced She's Engaged – PHOTOS
Dimitrios Kambouris/Getty Images Entertainment/Getty Images
It looks like love is in the air for our girl Ri-Ri, and not just in a cute schoolgirl-crush kind of way. We're talking the BIG "L" here, guys. Because, ahem, Rihanna was spotted rocking a freaking massive diamond on her left hand, which, in case you didn't know, is the hand that a man typically takes, drops down on one knee, and PROPOSES marriage with. Yes, you heard me correctly. Rihanna. Diamond Ring. Left Hand. Rihanna, don't leave us hanging, we want you to dish on that rock! Obviously, these photos have many fans asking one very important question: Is Rihanna engaged? And for many others, another question is, "Wait, Rihanna has a boyfriend?" Let's discuss.
First things first. Yes, Rihanna has apparently been dating a super-secret, super swoon-worthy man named Hassan Jameel, who is nobody important or notable. JUST KIDDING, he's the freaking heir to the Toyota empire, and, according to Forbes Middle East, his family owns the rights to distribute Toyota in Saudi Arabia and, drumroll please, he's a BILLIONAIRE. Rihanna need not worry about any b*tch better having her money, because Jameel can clearly make it rain. (But who are even kidding, Rihanna can make it rain on herself because she's Rihanna.)
Does anyone else just wish they could be Rihanna? Oh, everyone? Cool, thought it was just me.
So anyway, back to Rihanna and her very rich, verrry handsome boyfriend. Rihanna was caught locking lips with a mystery man back in June while visiting Spain, and the world was inevitably shook:
When it was revealed that this mystery man was, in fact, Hassan Jameel, the world rejoiced because he seemed like a tall, dark Prince Charming and that's precisely what Ri-Ri deserves.
So let's fast-forward to present day, where social media is LEGITIMATELY breaking into a million crumbly bits of hope and love and wonder and chaos because:
Are you seeing what I'm seeing? LOL, how could you not because that gorgeous rock has to weigh five pounds at the very minimum.
So shiny. So sparkly. So mesmerizing. SO JEALOUS.
OK, so who knows, maybe Rihanna has just decided that this particular engagement-looking ring would look really lovely on her left-hand ring finger on this particular day. Right?
According to Twitter... no.
The Twitterverse thinks — nay, is CONVINCED — that this stunning ring can only mean a proposal by one Prince Charming (aka Hassan Jameel):
Can we all PLEASE just for one moment imagine Rihanna, Kween of Saudi Arabia?
Some people were quick to dismiss the rumors, though, saying that she's "worn a ring on that finger a million times," and one sleuth said that that particular ring's worth is "candy money" for the pop singer:
I guess there is one thing me and Rihanna have in common: $40,000 is candy money to me, too!
*sobs into empty wallet*
Still, is it too soon for the pair to be engaged? Not necessarily, considering this is the celebrity world we're talking about, not the world where us mere mortals live in. So the fact that they've only been seen together since June shouldn't mean much in the grand scheme of things. Plus, who's to say that they haven't been dating for longer, and we just didn't know about it?
Sneaky, sneaky, Ri-Ri.
Look, whatever the case may be, I just want to say that IF she is engaged to Jameel, then congrats! Well done, please pass go, please collect your one-hundred dollars. I can't wait to see that wedding, and maybe if there was an extra chair at the very back table, I could be considered to fill the seat? I'd be free that day. It could be literally any day. I'd drop everything.
If they aren't engaged, and Rihanna is just rocking an insanely jaw-dropping piece of jewelry on her finger for a day or two, then bravo, Rihanna, for having super classy style.
We love you, always and forever, and anything you do is pure genius in our eyes, no matter if you're wifed-up or not.