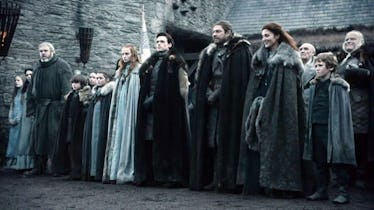 Rumor Has It This Fan-Favorite 'Game Of Thrones' Character Will Be The Next James Bond
HBO
Game of Thrones Season 8 has officially wrapped filming. Cast members are moving on with their lives, or getting tattoos to commemorate their years on the show. Emilia Clarke cut her hair and Kit Harington shaved his beard. But what projects do these actors have lined up to follow their time in Westeros? One of the biggest franchises in the UK for the last 50+ years is getting ready to recast their lead: James Bond. Rumor has it a Stark could be taking on the role when current star Daniel Craig retires. Is Richard Madden playing James Bond? If so, he'll follow in his on-screen father's footsteps.
Sean Bean never played James Bond, but he did play Alec Trevelyan, an MI-6 agent in the franchise, one who worked closely with Bond for years before going rogue. Bean was the main antagonist in 1995's Goldeneye and the most memorable of the decade.
While it's a little early to speculate who the next Bond will be since Craig still has one more film in the franchise before he retires, it's well-known the current James Bond actor has hinted he's very done with the franchise, and once the movie currently called James Bond 25 is finished filming, he'll be moving on.
But when one Bond actor gets ready to retire, the entertainment rumor mill in the UK goes into overdrive trying to uncover the planned replacement. The Daily Mail insists their sources have the scoop.
It is understood that Barbara Broccoli, the executive producer at Eon Productions who has the final say on all Bond characters, is likely to approach Madden in the next few days... A source said: 'It's seriously looking like he [Madden] is going to get the job. Not only is he on top of Barbara's list, but she is preparing to offer the role.'
According to The Daily Mail, Broccoli made up her mind not from watching Richard Madden as Robb Stark, but as David Budd in Bodyguard. The BBC miniseries starred Madden as a government protector and broke viewer records for the UK channel last held by Downton Abbey. It will be premiering stateside on Netflix on Oct. 24, 2018.
Check out the trailer.
Now, if this were the kind of man Walder Frey faced down, I have a feeling the Red Wedding might have turned out very differently.
If this report turns out to be true, there will be some disappointment in the Bond fan circles, as many hoped to shake up the formula with a "Jane Bond" or a black actor in the role. But while some franchises are ready for a change in casting, the Bond movies are a more staid brand of action films.
If Richard Madden does get cast in the role, he won't debut for a few years yet. The current James Bond 25 isn't scheduled for release until 2020. James Bond 26, with a new actor in the role would not come until at least 2022 or later.