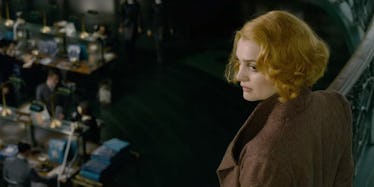 'Fantastic Beasts' Fans Have A Million Questions About Queenie's Fate
Warner Brothers
Fantastic Beasts: The Crimes of Grindelwald is a film that opens at the close. Then it opens again and again until so many twists are popping out of the final scenes, it's a wonder someone doesn't get an eye poked out. Of course, the biggest twist is the one pertaining to Dumbledore, Grindelwald, and the Lestrange family tree. But for those who recall the original starring cast of these films was supposed to be Newt Scamander and the Goldstein sisters, what happens to Queenie is probably the hardest to take. Is Queenie evil now? Warning: Spoilers for Fantastic Beasts: The Crimes of Grindelwald follow.
Heading into the sequel film to Fantastic Beasts & Where To Find Them, fans were worried about Queenie. There were clips in trailers making it look like she could be attacked by Grindelwald, or kidnapped, or worse.
But this was all misdirection. Queenie is in trouble all right, but not the way fans assumed. Who would have known in the end, Queenie would walk away from friends, family, and the muggle she loved and join with Grindelwald voluntarily? It's a heartbreaking moment all around as Jacob loses the witch who stole his heart, and Tina loses the sister she's always depended on.
As fans will remember from the first film, Queenie is a Legilimens, able to read people's minds. It's not an ability she can control very well and sometimes, stuck out in public in a crowd, it can overwhelm her. This is what happens when she travels to Paris. Initially, she brings Jacob to London, under a love potion spell, in hopes of getting them married without him protesting. (Considering the punishment in America for muggle-witch intermarriage, Jacob has an excellent case for why he won't do it.) But when Newt calls her out, she leaves in despair and heads to London to find Tina and maybe have a good cry over some chocolate.
Tina is, unfortunately, working undercover looking for Credence Barebone and also imprisoned by someone else looking for him first. This leaves Queenie quite alone in a foreign city, lost in the rain and the misery and all these voices. Unfortunately, the person who rescues her is the worst possible answer: Vinda Rosier, Grindelwald's lieutenant in Paris.
She brings Queenie to see her master, and the poor girl is horrified at first to realize where she is. But Grindelwald's honeyed words are something she's been looking to hear. He tells her his plan is not to hurt muggles, but to bring freedom to all witches and wizards, to stop hiding who they are, and to live freely.
This is all Queenie's ever wanted. To her, it's a ticket to marrying Jacob. She goes willingly to hear Grindelwald speak in public, even foolishly bringing Jacob to stand with her. She's horrified when Grindelwald reveals if they don't stop the current timeline, World War II will break out. Muggles must be saved from themselves.
Queenie makes her choice to follow Grindelwald. She genuinely believes she's working to make a better world, never realizing it's one where Jacob and everyone she loves can and will never follow.