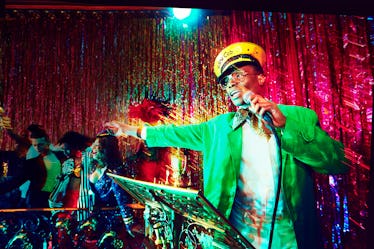 Here's Everything Fans Should Know About The Story Behind Ryan Murphy's 'Pose'
FX
FX's brand new series Pose is set in New York City in 1987. It's a time when middle-class America was deep in a trend of consumerism culture, while AIDS was peaking in the LGBTQ communities. Pose deep dives into the latter while juxtaposing it against the former, using the rise of "ball culture" to bridge the gap. The characters seem so real, fans wouldn't be wrong to wonder: Is Pose based on a true story? Are any of the characters based on someone who lived during that time?
Part of the reason fans might wonder this comes from the original trailer, which introduced fans to the residents of the House of Evangelista in a black-and-white documentary-style clip. In it, viewers are introduced to the main characters: Blanca, the house mother, Damon, the dreamy dance student, and Angel, the snarky sex worker. They introduce themselves and discuss what brought them to New York, why they are so entranced by the ball culture, and what it means to them to be a part of it.
The first episode makes it clear Pose is not a documentary, but a period drama with bright, bold colors. But the documentary trailer sure makes it seem like it must be based on a true story.
While Pose is not based on a single true story, Ryan Murphy admitted he was thinking about it at one point. The show is actually inspired by a famous documentary from 1990 called Paris Is Burning, created by filmmaker Jennie Livingston. Her film chronicled this exact culture from about 1986 to 1989, focusing on the African-American and Latino segments of the community, and thoughtfully delved into the intersection of race, class, gender, and sexuality during this time period.
The film helped bring ball culture into the mainstream in many ways. It reportedly inspired Madonna's "Vogue," and drag star RuPaul is known to quote the film and credits it partly for helping drag break through to the masses in the early 1990s. For Murphy, it was an inspiration from a young age. According to HuffPost, he told TV critics:
I always loved Paris Is Burning. They were rock stars to me when I was growing up.
Murphy and producing partner Brad Falchuk nearly optioned the rights to Paris Is Burning, with the idea of taking the real-life people featured in the documentary and having them be the main characters of the show. However, it was deemed too complex an idea to pull off properly.
But the more we talked about it and the more we worked on it, I sort of felt that it was very difficult to take those people that were iconic and make sort of fictionalized versions of their lives. So then we put it aside, and then we got Steven's script that he had written, Pose, which is this story.
Pose also feels very true to life because it casts trans actors in trans roles, including Indrya Moore, who plays Angel. Moore is part of today's ongoing ball culture, and say she "has the support" of her House of Xtravaganza family members.
They know I'm going to come up here and represent the way we are, the way we exist.
Members of the trans community are also represented behind the scenes. Janet Mock and Our Lady J are both writers and producers on the show, and Paris is Burning director Livingston was also given a "consulting producer" credit on the series. So, even though the show which made it to air is not based on an actual "true story," there are enough "true stories" and experiences embedded in the scripts and the performances that it feels pretty darn true.
And seriously, if you loved Pose's first episode, go watch Paris Is Burning. It's currently streaming on Netflix.
This post was originally published on May 31, 2018. It was updated on Sept. 17, 2019.