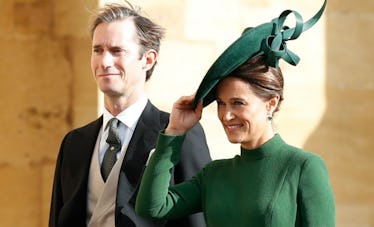 Pippa Middleton Could Possibly Be In Labor At The Same Hospital Where Kate Gave Birth
WPA Pool/Getty Images Entertainment/Getty Images
There's a lot of royal family news hitting the media lately. Between Princess Eugenie's wedding and Meghan Markle, Duchess of Sussex's pregnancy, fans of the royal family are having to process a whole lot of information. And now there's even more: Kate Middleton, Duchess of Cambridge's sister was reportedly spotted arriving at Lindo Wing at St Mary's Hospital in West London on Oct. 15. So, is Pippa Middleton in labor? According to a new report from Daily Mail, she just might be! Elite Daily reached out to Kensington Palace to confirm the news, but did not hear back by the time of publication.
Middleton reportedly arrived at Lindo Wing maternity hospital with her husband and two overnight bags in tow, which may suggest she's in labor or is about to go into labor any time now. This is the first child for Middleton and her husband James Matthews.
The news of a possible labor comes just days after Middleton and Matthews attended Princess Eugenie's wedding at Windsor Castle on Friday, Oct. 12. And it follows the news that Prince Harry and Meghan Markle are expecting their first child together in the spring of 2019. So, Middleton's news comes at a very busy time for the royal family.
All that said, though, this isn't the first time Middleton has been spotted at Lindo Wing during her pregnancy. She was also there on Oct. 2, according to the Daily Mail. So, perhaps that visit was in preparation for the birth which, if all public calculations are correct, could be very, very soon.
Her choice to give birth at Lindo Wing at St Mary's Hospital in Paddington, West London is a smart one. It's where her sister, Kate, also gave birth to her three children. Princess Diana gave birth to her children there as well. So, there's a little bit of royal family history and experience informing this choice. Not only that, but Lindo Wing provides its clients with the utmost privacy during what is an emotional and exciting time. They also provide gourmet meals and top-notch care, according to the Daily Mail.
A single night at Lindo Wing reportedly costs a whopping $7,500 per night, so it's not the kind of place just any expectant mother can go to give birth. It's most definitely for the elite and that obviously includes Middleton, her sister, and the rest of the royal family.
Since Lindo Wing is steeped in royal family history, many are speculating that Meghan Markle will also give birth there when the time comes. And that would be a likely choice for her as well. Luckily for her and Middleton, they have the Duchess of Cambridge to look to for some sound parenting tips. I'm sure Middleton, more than anyone, will rely on her big sister Kate for advice on motherhood.
As for whether Middleton is expecting a boy or a girl, she's taking cues from her big sis there as well. Like the Duchess of Cambridge, Middleton has decided to wait until the birth of the baby to find out. So, I guess the world will find out when she does! In the meantime, here's hoping the birth goes smoothly!