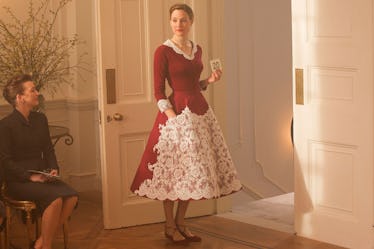 Fans Are Wondering If 'Phantom Thread' Is Based On A True Story, Here's What We Know
Universal
This Oscar season has seen one of the most curious films of the decade landing a triumvirate of nominations (Best Picture, Director, and Actor) with almost no campaigning on behalf of the major players. Phantom Thread is the newest high-end period piece from director Paul Thomas Anderson, starring Daniel Day-Lewis in his final role before retirement. But even without the lead front and center pushing the film, it has found itself drowning in accolades, in part from the gripping, yet twisted plot. Is Phantom Thread based on a true story? And if so, which fashion house is The House of Woodcock based on?
This is the second dramatization based on the post-World War II comeback of the fashion industry. Last year's Collection, from Amazon and PBS, was a loose based historical fiction of the rise of the House of Dior, where the fashion was accurate, though the behind the scenes drama was not. Phantom Thread follows the same model. London designer Reynolds Woodcock (played by Daniel Day-Lewis) produces designs that are clearly based on the trajectory of one of the 1950s hottest designers, the British-American designer Charles James, who the MET Gala honored earlier this decade.
But the trailer (below) leaves out a major plot point of the film, and the one that leaves audiences stunned as they leave the theater. It also has them asking...was this based on a true story?
Warning: Spoilers for Phantom Thread follow.
Looking at the facts of Charles James' life, he was viewed as eccentric much like Woodcock is here. (For instance, he was so displeased once by how a model walked, he put on the gown and did the show instead.) And James' symbiotic relationship with his wife, Nancy Lee Gregory, is akin to the one Woodcock has here with Alma (Vicky Krieps).
But like Collection, the "behind the scenes" of these legendary gowns is not accurate. Charles James wasn't dependent on his sister to run the business side of the House of Woodcock, though there were many designers at the time who did have this arrangement. Victor Stiebel, who made Princess Margaret's wedding gown, for instance, and Norman Hartnell, who designed for Queen Elizabeth II in the early years of her reign, were two who kept it in the family The "hidden messages" was also not a Charles James staple. That's lifted from a more modern couture designer, the late Alexander McQueen.
And as for their "arrangement," well there's no evidence of this at all.
As the trailers indicate, Woodcock and Alma have a rocky relationship, with him being snappish and insecure, and her wanting to be more of a partner in the business than he's willing to allow. Their marriage happens after he falls ill, and she nurses him back to health, impressing upon him how much he needs her, and how much she takes care of him.
But by the end of the film, he realizes this "illness" is not natural. She's been poisoning him with wild mushrooms, never enough to kill him, but enough to keep him in check, and dependent upon her for his business to survive.
In most stories, this would end with divorce, or her poisoning him once and for all to keep her secret. Instead, *he* agrees to allow it to continue, cementing the two of them in a bizarre and twisted kind of co-dependency, and he likes it just as much as she does.
There is actually a term for this. "Munchausen Syndrome by Adult Proxy" is defined by the Journal of Hospital Medicine as:
[A] form of abuse in which a caregiver deliberately produces or feigns illness in a person under his or her care so that the proxy will receive medical care that gratifies the caregiver.
Munchausen syndrome by proxy is far more likely to happen with children, who are unable to discern what is happening around them, and more dependent on their caregivers than adults. But there are documented cases of adults perpetrating it on their loved ones. However, unlike Phantom Thread claims, thus far there are no documented cases where the adult being poisoned is happy to collude with the abuse. That part's just for the movies.