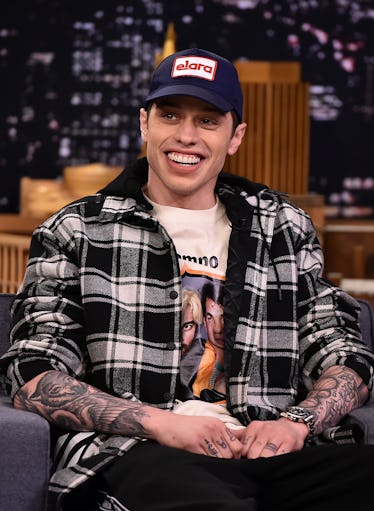 Pete Davidson Just Canceled A Second Comedy Gig Since His Split From Ariana Grande
Theo Wargo/Getty Images Entertainment/Getty Images
When celebrity couples break up, it's almost impossible to know how they're handling the emotional pressure of it all. But Pete Davidson, whose breakup with Ariana Grande is still very fresh, is giving fans a clue about how he's dealing with his heartbreak. Since splitting with Grande, Davidson has canceled two stand-up comedy gigs, with the most recent one being on Oct. 25. So, is Pete Davidson taking a break from comedy? Well, it kind of seems like he might be.
Davidson was all set to perform at Saint Louis University in Missouri on Thursday, October 25. But on Wednesday, Oct. 24, the Facebook event page for the show announced that Davidson wouldn't be able to make it.
"Due to personal reasons, Pete Davidson's appearance at SLU has been cancelled," the event's note read. "Stay tuned for more information about another great speaker!"
The note also included some very telling clues about the reasons for the cancellation. It was tagged with phrases like "Health", "Sketch Comedy," and "Mental Health." So, perhaps that means Davidson is taking a mental health break, which is totally understandable.
Just last week, on Oct. 16, Davidson canceled a headlining gig at Temple University. According to Us Weekly, Student Activities at the university revealed Davidson canceled his performance for personal reasons as well.
"Pete Davidson has pulled out of his appearance here, last minute, due to personal reasons," Student Activities told Us Weekly.
Davidson's stand-up cancellations come just days after he and Ariana Grande ended their short-lived engagement. The news broke on Sunday, Oct. 14 via TMZ and it was just a few days after that, on Oct. 16, that Davidson first canceled a performance. So, more than likely, Davidson is trying to work through his own feelings about the whole situation.
But he hasn't been completely out of the limelight. He did manage to make an appearance on Saturday, Oct. 20 at the Judd & Pete for America benefit in West Hollywood. Davidson co-hosted the event with Judd Apatow. During the show, Davidson joked about his breakup with Grande, proving he's attempting to take all of it in stride.
"Well, as you could tell, I don't want to be here. There's a lot going on," Davidson told the crowd at the event. "Does anybody have any open rooms? Looking for a roommate?"
During Davidson and Grande's relationship, the two shared an apartment in New York City, which reportedly cost $16 million.
"Um, I've been covering a bunch of tattoos, that's fun," he continued. "I'm f**king 0 for 2 in the tattoo department. Yeah, I'm afraid to get my mom tattooed on me, that's how bad it is."
Davidson's jokes about the relationship didn't stop there. He went on to make himself the butt of the joke.
"So, obviously you know I, we [Ariana and I] broke up or whatever but when me and her first got engaged we got tattoos. And it was like in a magazine like, 'Was Pete Davidson stupid?' And 93 percent of it said yes," Davidson told the audience. "So my boy, he was like, 'Don't listen to that s**t man. They're literally f**king haters.' And I'm like, yeah, f**k that. I'm not stupid. And the other day we were in my kitchen and he was like, 'Yo bro. Turns out you were stupid.'"
So, Davidson seems to be processing his feelings about his split with Grande in the best way he knows how: with comedy. But even so, his recent cancellation seems to point to an underlying need to stay away from the spotlight. And that's a completely understandable reason for cancelling a show. Hope he bounces back quickly!