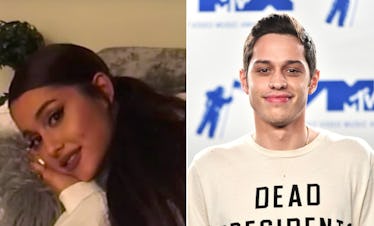 Ariana Grande's 'Dangerous Woman Diaries' Is Here, But Don't Expect To See Pete Davidson
Alberto E. Rodriguez/Getty Images Entertainment/Getty Images
Do you love Ariana Grande? Who am I kidding? Of course you do. Well, I've got some pretty great news for you, and it comes in the form of a docu-series that brings your girl Ari straight to your screen, showing an inside look into the pop star's life. In the series' first installment, she talks about the creation of her music videos, her rise up the Billboard charts, and her time in the studio. That's right, people, Ariana Grande's Dangerous Woman Diaries shows the pop star revealing what it's really like to be her. But there's one huge piece of her life missing, and that's her ex-fiancé, Saturday Night Live star Pete Davidson. So, is Pete Davidson in Ariana Grande's Dangerous Woman Diaries? It looks like he'll mostly be MIA — and not just in the first episode, either.
Let's take things back a minute first before honing in on the details. On Wednesday, Nov. 27, 25-year-old "God Is A Woman" singer Ariana Grande announced that her new YouTube Original docu-series, fully titled Ariana Grande: Dangerous Woman Diaries, was officially happening.
According to a press release sent to Elite Daily per The Hollywood Reporter, the docu-series is streaming on YouTube and "promises to take fans behind-the-scenes of her Dangerous Woman Tour and the making of the Sweetener album," and will give viewers a "behind-the-scenes look at some of the biggest moments in her career."
Um, yes please!
The first episode debuted on Thursday, Nov. 29 on Grande's YouTube channel, and let me tell you, it was a lot. There were a ton of interesting behind-the-scene clips — like watching the creation of "The Light Is Coming" and "God Is A Woman" — and we also get to see a more relaxed Ariana Grande messing around with her friends in her off-time from the stage. But it seems as though Pete Davidson is pretty nonexistent in this docu-series, despite the fact that Grande is sporting her engagement ring while filming.
According to a YouTube rep per Variety, the Dangerous Woman Diaries won't be addressing Grande's broken engagement to Pete Davidson, so it looks like we shouldn't expect to see any part of their relationship brought into the spotlight in the series. You can, however, spot a very tiny cameo of Pete Davidson during a clip showing behind-the-scenes footage of Grande's 2018 MTV Video Music Awards performance, where you can see him ever-so-briefly smiling at her in the background.
It's a bummer that that's all we're likely going to get, but it's pretty clear that this series is based more about Grande's music than anything else, so it's sort of understandable.
You can watch the first of the four-part below, which really does give a first-hand view into the world of Ariana Grande:
I don't know about you, but I already can't wait to watch the next episode.
Back when the trailer was first released, we saw Grande sitting on the couch, casually chatting with her viewers, dispersed between clips of her performing live in several different arenas. Even though the trailer was only one minute long, it made anyone who is a fan of Grande incredibly excited to see more.
"We want to bring you as closely into our world as possible," Grande says. "I want to share this with you guys. I'm so excited to bring you into the world of the Dangerous Woman Diaries."
Can they just release all the four parts already?! Your girl is losing her patience right now.
And I'm definitely not alone with that thought. Many fans took to Twitter to share their excitement over the debut of the series, proving that loving Ariana Grande isn't just a choice, it's a way of life:
I don't know about you, but I'm amped for the second video to debut, with or without Pete Davidson.