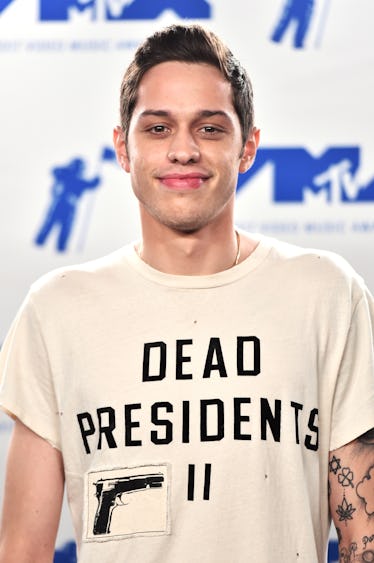 Pete Davidson May Be Moving On From Ariana Grande In A Big Way
Alberto E. Rodriguez/Getty Images Entertainment/Getty Images
When Ariana Grande and Pete Davidson split back in mid-October 2018, there was some question about whether the two (who seemed so desperately in love) would take their time moving on from the relationship. While Grande has been diving head first into new music, Davidson has been resorting to comedy to work through these past two months. And now, it seems he's ready to work on his love life once again. So, is Pete Davidson dating again? He is, according to a new report from Us Weekly. Elite Daily reached out to Davidson's team for comment, but did not hear back by the time of publication.
In a Monday, Dec. 3 report from Us Weekly, a source close to Davidson revealed that the 25-year-old comedian has joined a dating app. And another source in Davidson's circle said that he is starting to date once again, but taking things slow for now in the wake of his split from Grande.
"Pete is dating again," the second source said. "He's in a good place and he's happy. He's not in a rush. He's focusing on himself and the future."
Wow, it sounds like Davidson is doing great! And that's a really positive thing, especially since he didn't seem to be handling things too well in the weeks following his split from Grande. In the weeks after the breakup, Davidson canceled several comedy show appearances and alluded to his hard times when he did manage to keep his performance engagements.
On Saturday, Oct. 20, Davidson appeared at the Judd and Pete for America benefit in West Hollywood where he joked about his breakup with Grande and having to leave their joint apartment.
"Well, as you could tell, I don't want to be here. There's a lot going on," Davidson told the crowd. "Does anybody have any open rooms? Looking for a roommate? Um, I've been covering a bunch of tattoos, that's fun," he continued. "I'm f--king 0 for 2 in the tattoo department. Yeah, I'm afraid to get my mom tattooed on me, that's how bad it is."
Needless to say, Davidson went through a rough patch for a while there, which is more than understandable. And if his recent Instagram comments about being bullied are any indication, he's been dealing with some tough stuff for a while now.
In a recent Instagram post, Davidson revealed that he's been on the receiving end of serious bullying for nine months.
"I've kept my mouth shut. Never mentioned any names, never said a word about anyone or anything," Davidson wrote. "I'm trying to understand how when something happens to a guy the whole entire world just trashes him without any facts or frame of reference. Especially in today's climate where everyone loves to be offended and upset it truly is mind-boggling. I've been getting online bullied and in public by people for 9 months."
So, it sounds as though Davidson is long overdue for a bit of happiness and less pressure from the public. With any luck, he'll be able to move on from the Ariana Grande period of life with ease. I suppose the fact that he's dating again (even just casually) proves that he's well on his way! Good for you, Pete!