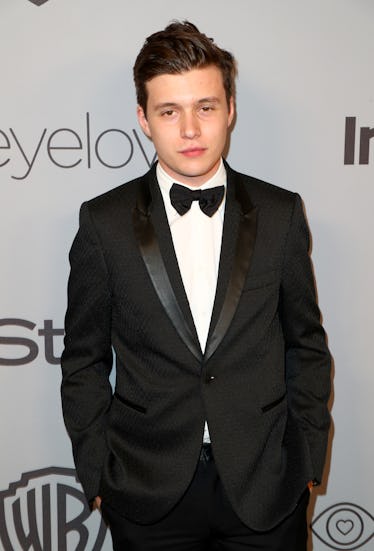 4 Things To Know About The Star Of 'Love, Simon' That Will Make You Love Him Even More
Joe Scarnici/Getty Images Entertainment/Getty Images
If you don't know the name Nick Robinson, it's probably about time to you start paying attention. The 22-year-old actor has some major movie roles under his belt, and now he's starring in Love, Simon — a teen romantic comedy-drama about a gay high school senior dealing with coming out of the closet. The groundbreaking coming-of-age film, based on the Becky Albertalli book "Simon vs. the Homo Sapiens Agenda," is already getting positive critical attention and its leading man is clearly destined for more big things. So, is Nick Robinson single? Here's what you need to know about the talented rising star.
His Filmography Is Already Impressive
Nick's big break was his recurring part on the ABC Family TV show, Melissa & Joey. In 2013, he had a breakthrough performance in the 2013 indie comedy, The Kings of Summer. You probably recognize him from his 2015 role in Jurassic World, one of his biggest movies to date. After running from dinosaurs, he went on to appear in the YA adaptation The 5th Wave alongside Chloe Grace Moretz. He continued on the YA path with the 2017 romance, Everything, Everything, with Amandla Sternberg as his so-star. Next up, he'll be featured in the upcoming thriller Strange But True. Robinson also stars in the soon-to-be-released William H. Macy comedy, Krystal. It's safe to say his career is just getting started.
He's Been Linked to His Co-Star
In true Hollywood fashion, romance rumors sparked regarding Chloe Grace Moretz and Nick when the actors starred in the 2016 sci-fi flick, The 5th Wave. Nothing was ever confirmed and it's more than likely they're just purely friends and colleagues. Chloe has had an on-again, off-again relationship with Brooklyn Beckham since 2014.
"I think the fact that there's a lot of distance between the characters at the beginning [makes it different]," Nick said of the romantic elements of The 5th Wave. "They all have to fight a very long way to find each other again. I think that that makes for a very different sort of love triangle."
He Might Be Single at the Moment
It appears that Nick likes to maintain his privacy, as he has not gone public with any relationships or substantiated any gossip surrounding his love life.
And he's obviously in tune with awkwardness of modern dating.
"If you have a crush, if you have a first love... It's the first time you meet, especially if you've been talking via text or email, the first time is gonna be nerve-racking," he said of the anxiety of meeting a crush in person, while promoting Everything, Everything.
He's Not Hugely Active on Social Media
Nick's social media presence doesn't feel as a constant as some other stars in his age group — let's just say his Instagram page is small but mighty. He tends to stick to more artistic and socially-conscious shots of his surroundings and observations, as opposed to selfies and flashy red carpet snaps. He also includes behind-the-scenes pics from the his travels and the sets of of the films he's worked on.
"I think in this industry, there can be a lot of 'yes men.' You know, people who surround you and give you the thumbs up all the time. I think it's important to just have some perspective and realize when you might be, you know, going off the rails," Nick remarked on the potential pitfalls of fame. "I've got friends and great family who support me."
Love, Simon hits theaters Friday, March 16. We look forward to seeing more of Nick as his career continues to skyrocket.
"Moviegoers want to see their stories represented onscreen," Nick recently remarked to Variety about the influence of his film. "Hopefully, this is not the last. Hopefully, this is the first of many films that show a broader section of life."