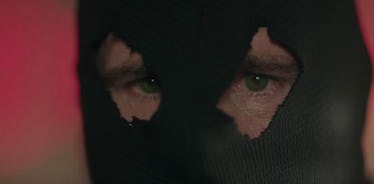 The Black Hood On 'Riverdale' Was Finally Revealed & We Didn't See It Coming
The CW
So... that happened?Riverdale promised a "showdown with the Black Hood" on the Wednesday, Dec. 13 midseason finale, and the series definitely delivered on that front. Spoiler alert: Please don't read on if you haven't seen the episode and don't want to know what goes down. It's time to hang up your sleuthing hats, stop racking your brain for unearthed theories, and put your most hair-brained suspicions aside on this particular mystery — because the sinner-hunting killer's identity was finally revealed. Is Mr. Svenson the Black Hood on Riverdale? The mask is officially off, people! The shady janitor with a tragic past is at the center of this crime spree, although it's pretty clear that there are plenty of threats still lingering in this not-so-sleepy town. Even though we have one answer, this thing is probably not over... yet.
So, after a long crazy day of snooping, digging, kissing (!), and almost getting buried alive, it was Betty and Archie who came face-to-face with The Black Hood's true self. After escaping his grasp, the scrappy pair chased him down and brave young Archie pointed a gun right at the man who had caused them such fear and anguish. A shot rang out, but it turns out it came from Sheriff Keller. The Black Hood was officially dead. And the big reveal unveiled Svenson as the man behind the mask. OK... glad we got that one cleared up.
As we learned previously, Joseph Svenson was actually (twist!) Joseph Conway, who was the only family member left alive following a brutal massacre by the Riverdale Reaper years ago. When Svenson doesn't show up at work, the gang naturally gets worried, because they think they may have put him in jeopardy by confronting him about his connection to the Black Hood. Once again, their relentless meddling could potentially hurt someone, and they gotta make it right. By the way, Betty also received a finger in a box, so they were all, "yikes! Svenson's being tortured! We gotta save this guy!" We later find out that finger chop was self-inflicted by Svenson himself. Gotcha.
So, Betty and Archie headed to ground zero for many of the town's buried secrets — Sisters of Quiet Mercy — to get the dirt on the "troubled youth's" past. Here's the truth: "After his family was massacred, young Conway — young Svenson — identified the man responsible. Then a small group of Riverdale citizens took matters into their own hands and well, executed him." What?! Turns out he may have gotten ahead of himself and accused the wrong guy, because oops? "Svenson's sin was sentencing the wrong man to death," Betty declares. Thanks for the clarification.
Which leads us to a motive. Sort of? "Mr. Svenson accused an innocent man of murdering his family and got that man killed. So maybe he thought that in some backwards way that murdering the sinners would balance the scales someway," Betty analyzes in a diner post-mortem. Everyone seems perfectly satisfied by this explanation and just nods. Cool.
Call us nitpickers, but when you have to spell it out like that and basically abstractly justify someone's reasoning for becoming a high school-targeting psycho killer, the impact isn't quite as rewarding... but we'll take it. Anyway, it looks like this reign of chaos in Riverdale is not even close to being over. If we've learned anything, it's that the real Riverdale Reaper is likely still out there and the core four don't exactly appear to be safe just because Svenson's been nabbed. The final moments revealed that someone is snapping pics of Arch and Ronnie without their knowledge. And Betty can burn all her Black Hood mementos or whatever, but even she knows this fire is just gettin' started. Yikes. 'Til January, kiddos! You better watch out...