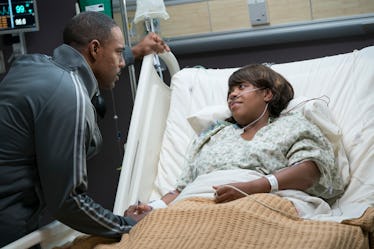 This 'Grey's Anatomy' Star Will Have Cameos In 'Station 19' & We Are So Ready
On Grey's Anatomy, Miranda Bailey's near-fatal heart attack happening alongside husband Ben Warren's career switcheroo didn't seem like a coincidence. With actor Jason George pegged to star in the upcoming spinoff Station 19 as a rookie firefighter, fans wondered if Ben becoming a regular at the firehouse would break up the beloved husband-wife team in one way or another. However, Bailey pulled through from her health scare with a new understanding of Ben's new career goals. Now that she's in full support of Ben working as a firefighter, will Miranda Bailey appear on Station 19?
Premiering on Thursday, March 22, Station 19 takes place only a few blocks away from Seattle's Grey Sloan Memorial Hospital, allowing for plenty of potential check-ins from Bailey and the rest of her medical staff. Speaking to TV Guide at the time of Bailey's heart attack, actress Chandra Wilson discussed the likelihood of her character appearing on the new series:
You know she's gotta go over there and mark her territory. At the end of the day, Ben and Bailey are husband and wife who now work in separate places and we get to explore what that looks like through both shows.
A Station 19-Grey's Anatomy crossover first happened in the latter's March 1 episode, "You Really Got a Hold on Me," when Ben and new colleague Andy Herrera delivered injured patients to the hospital. Andy met Ellen Pompeo's Meredith then, and the trailer for the official Station 19 pilot teases that Meredith appears alongside leading lady Andy once again.
Although marital tension would certainly help move the drama along in Station 19, it looks like the first season may be too steamy (no pun intended) to fit in major conflicts between Bailey and Ben. Wilson hinted that, if Bailey does visit her husband at the firehouse, the couple's time together may focus on their fondness for each other instead:
What [Bailey] comes to the conclusion of in the end is that life is just too short and you have to spend your life being happy... Whether that's a career change or putting your all into your relationship and loving someone for exactly who they are instead of who you want them to be.
Jason George will also make a few more appearances on Grey's Anatomy as Season 14 reaches its end. Speaking to Entertainment Weekly, Wilson said that the couple's transition into this new phase of life will take time and Bailey will particularly struggle at first:
It's not a night-and-day change. She'll give her seal of approval the best way Miranda Bailey can, but she has agreed to be supportive, and she has agreed not to give her husband a hard time about finding himself and figuring out who he wants to be. She may not be great at it, but that's her agreement. We'll do some back-and-forth coming up for the last half of this season of Grey's, between Station 19, me being there, and him being over at Grey's.
As for Ben, he joins a much younger group of co-workers at the Station 19 firehouse and must deal with being the most inexperienced team member in a high-stakes environment. After working in the same place for so long on Grey's Anatomy, Ben is faced with being the outsider when Station 19 begins, especially compared to Andy, the daughter of a fire chief. George explained:
If I am the new guy learning everything the way the audience is gonna learn how to be a firefighter, I'm the intelligent but inexperienced guy coming in, she is the second-generation firefighter. She is born into this.
Seeing as he's married to Bailey, I don't think Ben will struggle in dealing with the strong-sounding Andy. Fingers crossed that the two women share a great scene when it's Bailey's time to visit the station.
Station 19 premieres at 9 p.m. ET on Thursday, March 22, on ABC.