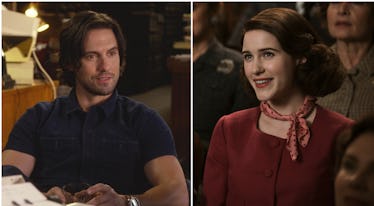 This Epic 'Gilmore Girls' Reunion "Will Definitely" Happen On 'Marvelous Mrs. Maisel'
Netflix, Amazon
Although Milo Ventimiglia is Jack Pearson on This Is Us to many people right now, to another group of TV lovers, he will always be Rory Gilmore's bad-boy boyfriend Jess Mariano from Gilmore Girls. In his role as Jess, Ventimiglia not only made a lasting impression on fans of the show, but also on its showrunners Amy Sherman-Palladino and Dan Palladino. So much so, that now the Palladinos are trying to work out a way to get Ventimiglia a part on their new show, The Marvelous Mrs. Maisel. So, is Milo Venimiglia joining Marvelous Mrs. Maisel for real, and what role can we expect him to play in the '50s-set drama? It sounds like Amy Sherman-Palladino is working that out.
Milo Ventimiglia reunited with his former Gilmore Girls bosses for an interview with Variety, and after gushing about each other for a while, the topic of Ventimiglia working with the Palladinos again finally came up. In particular, Amy Sherman-Palladino revealed that they have already been discussing how to bring Ventimglia on board for a part on The Marvelous Mrs. Maisel. The showrunner said that she is just waiting for the right part for Ventimiglia... and also a workable schedule around Ventimiglia's This Is Us facial hair:
Don't think it has not been discussed! It's got to be the right part. It can't be just a cameo. It's got to have some meat to it. And it's also got to be a time when he can shave and cut his hair into a 1950s-period look. But the reuniting will definitely happen.
Although the part for Milo Ventimiglia has not yet arisen, this should be very exciting news for Gilmore Girls fans, since Amy-Sherman Palladino is assuring us that Ventimiglia will definitely come on Marvelous Mrs. Maisel at some point and it will be more than just a cameo appearance.
Even though fans saw his character die last season, Milo Ventimiglia will continue to be part of the main cast of This Is Us for the foreseeable future, which could easily be a very long time given the success of the NBC family drama. But Ventimiglia still found time to re-team up with the Palladinos back in 2016 to reprise his role of Jess Mariano for the Gilmore Girls Netflix revival series Gilmore Girls: A Year in the Life.
The new Variety interview makes it very clear how much Milo Ventimiglia and the Palladinos adore each other. Ventimiglia said that the married showrunner duo made him feel instantly welcome when he first began working on Gilmore Girls, and Amy Sherman-Palladino gushed that she would actually consider having children if she knew that would turn out like Ventimiglia. With all that love in the air, it is no wonder why they all want to work together again. Ventimiglia even joked that he would make sandwiches and sweep the floors on the Marvelous Mrs. Maisel set just because he wants to hang out with the Palladinos more often.
Unfortunately, fans will probably have to wait a while before Milo Ventimiglia shows up on Marvelous Mrs. Maisel, but at least now we have Amy Sherman-Palladino's promise that it will definitely happen. Season 3 of This Is Us premieres on Sept. 25, and Season 2 of Marvelous Mrs. Maisel is expected to premiere before the end of 2018.