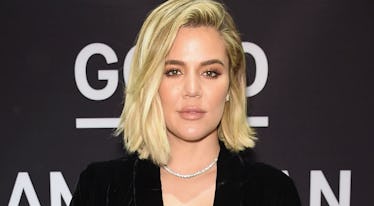 Fans Think Khloé Kardashian's IG Story Is About Tristan Thompson & They're Not Impressed
Jamie McCarthy / Getty Images
Khloé, Khloé, Khloé. Some days I want to hug you, other days I want to take you by the shoulders and give you a firm (but loving) shake. What are you doing, and how can we help? It's been a month since Kardashian gave birth to her daughter, True, and it's been just as long since the reported cheating drama with Tristan Thompson came into play — a matter in which Khloé has remained relatively silent about. But she took to social media and shared a quote that is making many fans think that Khloe Kardashian's Instagram story might be about Tristan Thompson. But do we know for sure? Well, fans seem to think so, and they have a lot of feelings about it.
On Tuesday, the Keeping Up With The Kardashians star and new mom took to her Instagram Story and shared a sweet quote that seems to be a nod to Cleveland Cavaliers basketball star Tristan Thompson, who is baby True's father. Her story post didn't have an image; it simply showed a clean, white backdrop and a simple quote, reading, "It's all about who you look for in a crowded room. That's where your heart belongs to."
Fans seem to think that this is a pretty dead giveaway that Kardashian has made up her mind about staying with Tristan Thompson despite reports that Thompson allegedly cheated on Khloé with numerous women while being pregnant with their daughter. Elite Daily reached out to Thompson and Kardashian's teams regarding the cheating reports but did not hear back by the time of publication.
Many of them are wondering why Khloé is being so forgiving, and warn her that his reported cheating proves that he might not be The One for her. They took to Twitter to talk about it, because honestly, where else can you go to do so?
Some people had tough love for Khloé:
Like, really tough:
But one Twitter user decided not to judge, because we never really see what goes on behind closed doors:
And it's totally true: We really aren't sure of what's going on in the Kardashian-Thompson household, so our opinions don't really matter (sorry, not sorry).
The opinions that do matter, however, are those of your family, and apparently, the Kardashians are less than thrilled with Thompson and the fact that Khloé is still living with him in Cleveland. A source told People,
The family is still not happy with Tristan ... Khloé's decision to stay with Tristan has definitely caused friction. Her family hasn't visited her for weeks. It's been hard for Khloe, but she is doing what she believes is best for her family.
This is breaking my damn heart, you guys.
And to make matters worse, it appears that Khloé Kardashian spent her first Mother's Day alone, so that's strike one, Tristan. (Who am I kidding? At this point, it's strike 100.) Elite Daily reached out to Kardashian's rep for comment on this report, but has not heard back at the time of this publication. According to People, Kardashian didn't fly back to L.A. for Mother's Day because she's "determined to show that she is happy in Cleveland." Girl, nobody would fault you for taking a trip to celebrate your day alongside your mom and sisters!
According to reports, the source said,
Khloé is determined to show that she is happy in Cleveland. She's very stubborn when it comes to her life. Her family still disagrees with her decision to stay with Tristan, but they are trying to be supportive. They wanted Khloé back in L.A. for Mother's Day, but she's doing her own thing.
Khloé. Girl. We love you. We want you to be happy. But make sure you're not staying in Cleveland to prove anything to your friends, family, or fans. If I'm being honest, I think I can collectively speak on everyone's behalf and say that we all want you back home. Okurr? Okurr.