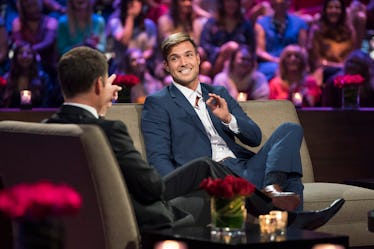 Bachelor Nation Is Rooting For Jordan To FInd Love In 'Paradise' & I'm Here For It
ABC
When it comes to nailing down the "villain" on this Bachelorette season, you may initially confuse amount of airtime with evilness. Male model Jordan Kimball dominated our TV screens this summer with his nonsensical rants and slightly evil eye, but when he returned for Men Tell All this week, something in the tide had shifted. Jordan's quick, witty comments actually made sense, and he suddenly seemed like one of the more adjusted men onstage. We'll soon follow his journey to potentially find love on Bachelor in Paradise, but is Jordan dating anyone after Paradise?
It's hard for me not to believe that Jordan is just a Ken doll who came to life, but we can safely assume that he is a fully functioning adult with past relationship experience. Although he didn't exactly click with Becca Kufrin on The Bachelorette, the new Paradise teaser shown at Men Tell All confirms that Jordan has his fair share of romantic and personal drama on the Mexican beach. He inevitably argues with his top Bachelorette enemy David Ravitz, the contestant formerly known as Chicken Suit Guy, and a woman may fuel the chaos between the two enemies.
Jenna Cooper, a Bachelor Season 22 star, seems to have connections with both men, while the promo also quickly suggests that Jordan cuddles in bed with fellow "villain" Krystal Nielson, but keep a close eye on the consistency of the lighting and background in those clips. The scenes don't quite match up, hinting that Jordan and Krystal both had encounters in bed separate from each other. The universe probably would have imploded if those two got together, so this looks more like a trick of sneaky editing meant to temporarily blow our minds.
While other contestants on the upcoming Paradise season aren't shy about posting social media content together and fueling relationship speculation, Jordan is in his own special league. His Instagram account is basically limited to selfies and the occasional group shot with Bachelorette men, while his Twitter page is full of gems like this.
So, when can I expect Jordan's TED Talk to hit the internet?
While watchful fans can't exactly determine whether Jordan is in a post-Paradise relationship, they're still placing their bets on how his time in Paradise goes. Perhaps only emphasizing that people care about Jordan for the drama rather than his chances at love, not many members of Bachelor Nation have their fingers crossed for him to have a serious romantic moment there. Instead, they're anticipating the universe implosion that is Jordan and Krystal meeting and the thought of Jordan and David hypothetically making up. OK, flirtation between Jordan and Krystal would probably be hilarious.
Meanwhile, one fan overheard a quick comment that could explain why Colton had such beef with Jordan during the Men Tell All. Apparently, you can hear Colton say to Jordan, "Maybe you proposed in gold underwear," perhaps suggesting that Jordan is the token man to get down on one knee at the end of Paradise this year.
I'm past the point of taking Jordan seriously, but even if the possibility of him proposing is true, I'd believe it when I see it. Can you imagine Jordan and his lady becoming franchise staples like the Waddell-Basses and Roper-Tolberts? Please, ABC, don't submit us to that fate.
The Bachelorette concludes on Monday, Aug. 6, at 8 p.m. ET on ABC. Season 5 of Bachelor in Paradise begins on Tuesday, Aug. 7, at 8 p.m. ET.