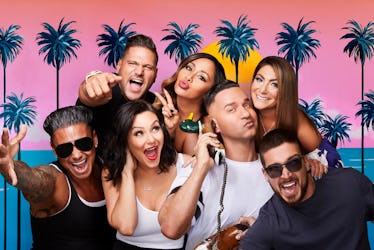 4 Ways To Stream 'Jersey Shore Family Vacation' So You Don't Miss A Second
MTV
I never know how much I missed the guidos and guidettes of Jersey Shore until the reboot Jersey Shore Family Vacation finally premiered last week on April 5. While I may feel encouraged to act like a real adult in everyday life, there's something comforting about seeing the saying "the more things change, the more they stay the same" personified through the Jersey Shore gang. If you feel the same and want to keep up with their Family Vacation antics, streaming the show is a must, but is Jersey Shore Family Vacation on Hulu or other streaming platforms?
At the moment, only the original MTV series is on Hulu, so if Jersey Shore Family Vacation somehow isn't doing it for you, you can throw things back to the cast's Florence fails, Shore Store sales, or Seaside Heights shenanigans any time. Perhaps the show having a spot on Hulu means that Family Vacation will end up on the streaming site eventually, but it's still a little early for it to pop up on major streamers like Hulu or Netflix.
But if you happen to miss out on the new show on Jerzday Thursdays, there are still plenty of ways to stream Jersey Shore Family Vacation so you know just how much GTL-ing the cast is up to nowadays.