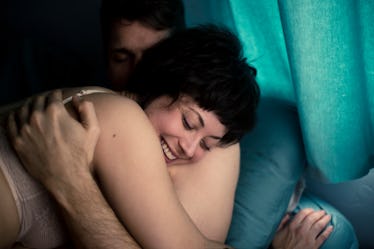 Is It Normal To Rarely (Or Never) Get Off With Your Partner? Experts Weigh In 
How often are you having an orgasm when you have sex with your partner? Every time? Most of the time? Well then, congrats, you are part of the lucky minority. I'd give you a prize, but from the sound of things you're already being rewarded on the regular. But for the vast majority of women, that's actually not the reality. So, if you are someone who wonders, "Is it normal if your partner rarely gives you orgasms?" I have good news and bad news: Yes, it's normal. Sorry, that was the good news and the bad news. But here's some additional good news: There are things you can do to turn those odds in your favor.
The reason that you're not coming with your partner may simply be that you aren't getting the kind of stimulation you require to get there. The Journal of Sex and Marital Therapy, in partnership with OMGYes, conducted a recent study focused solely on "the science of women's pleasure." For the study, they surveyed more than 1,000 women between the ages of 18 and 94, making it the largest study on the topic in history, and its findings were illuminating, to say the least. They discovered that more than 80 percent of women reported that they could not orgasm through intercourse alone. Additionally, "36.6 percent reported clitoral stimulation was necessary for orgasm during intercourse, and an additional 36 percent indicated that, while clitoral stimulation was not needed, their orgasms feel better if their clitoris is stimulated during intercourse." Which means, if you're not coming with your partner, it's time to switch things up and find out what works best for you.
So, now that you know that what you're experiencing is in fact pretty normal, how do you go about improving the situation? For help with that, I reached out to the experts for their advice. Here's what they had to say.