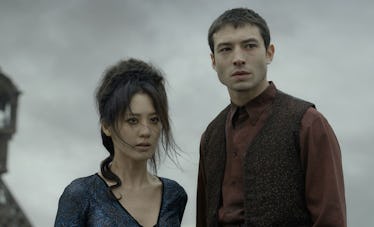 Ezra Miller Is Finally Talking About That 'Fantastic Beasts 2' Twist, So Listen Up
Warner Bros
If you have already seen Fantastic Beasts: The Crimes of Grindelwald, then you probably left the theater with a ton of questions. The new movie ends with a big reveal that is confusing to even the most hardcore Harry Potter fans, but now the man at the center of that twist is finally breaking down what confused fans need to know. Ezra Miller is setting the record straight about what really went down in the finale moments of Fantastic Beasts 2 in a new interview with Entertainment Weekly, answering the big question of is Grindelwald lying to Credence.
Spoiler alert: Do not read on if you have not seen Fantastic Beasts: The Crimes of Grindelwald yet. Throughout the Fantastic Beasts sequel, the big question looming large over everyone is who could Credence Barebone really be. The tortured Obscurial was first introduced in Fantastic Beasts and Where to Find Them, and it became clear that he is somehow an integral part of Gellert Grindelwald's plan to take over the world for pureblood wizards. At the end of the new movie, Grindelwald finally reveal's Credence's true identity to him. Apparently, Credence is actually Aurelius Dumbledore, a never-mentioned brother of Albus Dumbledore.
Since Aurelius has never been brought up in all of the Harry Potter lore before now, and his age seems to mess with the timeline of when Albus' father Percival Dumbledore was even alive or not imprisoned, the reveal is still super confusing for fans. And that includes Ezra Miller, himself a Harry Potter superfan, who said he was shocked when he found out about his character's true identity and admitted that he still has tons of questions about it. Because of how confusing the Credence/Aurelius revelation was, a number of fans theorized that Grindelwald may have been lying about Credence's identity — he is a dark wizard, after all. But Miller dispelled that rumor, confirmed once and for all that Credence truly is Aurelius Dumbledore.
So that is one question answered at least, but what another big question fans have had: Does Albus Dumbledore know that Credence is Aurelius... or that Aurelius even exists? Sadly, Ezra Miller admitted that even he does not know the answer to that question yet, although he did say that Jude Law knows, but is not telling anyone just yet.
And then, of course, there is also the big question of how Aurelius Dumbledore can even make sense given the established timeline of the Dumbledore parents and the fact that he has never been mentioned before. Ezra Miller said that although the twist seems to make no sense right now, J.K. Rowling knows the timelines and lore of this universe better than anyone and fans should trust that she is going to explain everything:
Jo's really good at that. She knows the mythology so well and I think she's into confounding you for a moment and having a fan go, "wait that can't make sense!" and then showing you how things you thought couldn't make sense make sense. I think she enjoys people not getting it for a second. She's done it to us a bunch of times.
I guess that just means we are stuck trying to work all that out for ourselves until Fantastic Beasts 3 in 2020... or until J.K. Rowling gifts us with one of her enlightening Twitter threads. Let's hope for the latter so we don't have to wait two years to find out the truth!